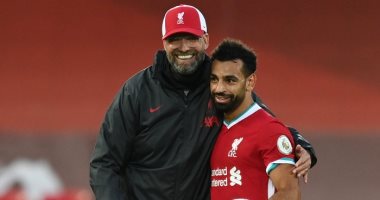 German coach Jurgen Klopp likened the mentality of Egyptian star Mohamed Salah to the mentality of Polish star Robert Lewandowski, Bayern Munich striker, stressing that the Egyptian star is one of the best strikers he has ever seen.
Klopp said in comments published by the English newspaper "Liverpool Echo": "I am not sure that I said that Lewandowski was the best player I have ever trained.
He added: "Mohamed Salah is exactly the same value as Lewandowski, and there is no doubt that he has become a scoring machine on the opponents' goal, his professionalism is second to none, he does everything to always be fit and stay on the right track."
He continued: "Apart from his technical skills, he always fights to break the opponents' net and this is useful as well, this is exactly the case with Leva, this is very good and useful for a football player."
He added, "The numbers that Mo has are crazy, and I am obviously lucky to work with some good players in my career, but I did not expect upon his arrival that he would achieve these numbers, because the expectation would put the player under great psychological pressure."
And he added: "Mohamed Salah has made huge strides since he arrived here. We played really good football that also helps score goals. The team developed in the right direction and Mo had a huge impact on that clearly."
"Right now he's in a good moment, he's in good shape, in a good mood, all these kinds of things, he's working hard and adapting to some changes in our playing style, the way we play, and he's enjoying it so it's all good and everything." positive".