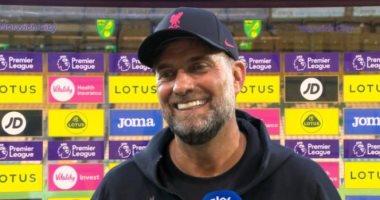 Jurgen Klopp, coach of the Liverpool team, who is professional in his ranks, the Egyptian star Mohamed Salah, spoke to the club's official website, about the readiness of 6 of his players before facing his host Brentford, on Saturday evening, in the sixth round of the English Premier League "Premier League".
Klopp said: "Trent Alexander-Arnold is available again after he missed the win against Crystal Palace due to illness, he is back in training, he trained yesterday and he will be fine."
And about the Brazilian striker Firmino, the German said: "Firmino has already trained for two or three days, so he returned to the competition, but he will be in regular training and then we have to make a decision if we take him with us or not, he will be present in the Porto match, as for Brentford, we have to We see".
He also talked about the rest of the players, saying: "Nabi Keita may not participate. It is not a serious matter, but we have to wait until the pain subsides to a large extent. As for Thiago, there is no chance of him being there. James Milner was something similar to Trent, I saw him running here, no one told me clearly." He's different, and I think he'll be in training today."
In another context, Klopp welcomed the club's decision regarding the expansion of the "Anfield" stadium, by about 7000 new seats, saying: "It is really good, very exciting, I have to wait for that, the wait is difficult, but I know now it will happen so I want to get it tomorrow in Reality".
He added, "Giving 7,000 people a chance to watch this great team play football is great, and it will look good too, how we saw with the last stand that we built."
Liverpool qualified for the round of 16 of the English League Cup after defeating its host Norwich City 3-0, to face Preston.