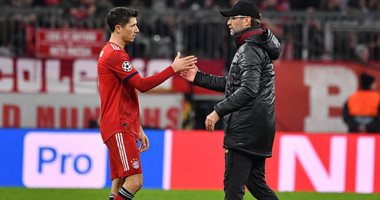 German coach Jurgen Klopp, coach of the Liverpool team, congratulated Robert Lewandowski, his former striker in Borussia Dortmund and the current top scorer of Bayern Munich, after officially winning the Golden Boot award for the 2020/2021 season..
Lewandowski won the award after scoring 41 goals last season with 82 points, surpassing Lionel Messi and Cristiano Ronaldo with their former team Barcelona and Juventus.
Klopp appeared in a video clip during the ceremony held today, to congratulate Lewandowski with the award, and said: "Hello Leva, congratulations on the Golden Boot.".
And Klopp continued: "When I heard that you won that award, I wondered: How? Only now did he win it? But you know how long it takes a person to reach the top, but you have been at the top for a long time and you deserve this award.".
"I'm very happy for you, and with the performance you've started this season, I wouldn't be surprised if you win the Golden Boot again, as long as we don't play against each other, you can score as many goals as you want.".
And Jurgen Klopp concluded: "I have said it many times, and I will say it for the last time. I am proud of you and wish you all the best and hope to see you soon in the Champions League final.".