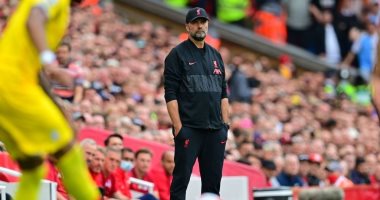 The German Jurgen Klopp, coach of the English team, Liverpool, commented on the importance of the role played by the Egyptian star Mohamed Salah, as well as the Senegalese Sadio Mane with the team, before the start of the team's match against its host Brentford, which is currently being held at "Griffin Park", as part of the sixth round of competitions. The age of the English Premier League competition "Premier League" for the current season 2021-2022.
Klopp said, in statements published by "Sky Sports" before the match, "Mohamed Salah and Sadio Mane are a great strength for us, both benefit from the other, and we benefit from them a lot. You need both players before a strong confrontation like Brentford, and the whole team helps Mohamed Salah and Mane, It is something special."
He added: "There is always special news for us when Mohamed Salah or Sadio Mane scores, we have to show our value against Brentford through them."
The Liverpool line-up against Brentford was as follows.
Goalkeepers: Alisson / Defense line: Alexander Arnold – Van Dyck – Matip – Robertson / Midfield: Fabinho – Jones – Jordan Henderson / Forward line: Sadio Mane – Diogo Jota – Mohamed Salah.
Brentford vs Liverpool
Liverpool is in second place in the English Premier League table with 13 points, equal to Chelsea, Manchester United and Manchester City clubs who have the same balance of points.
In this match, Liverpool seeks to win and snatch the full points in order to sit on top or go deeper into the golden box, so it will fight fiercely to get the full points from the opponent's fangs.
On the other hand, Brentford occupies the tenth place in the standings table with 8 points, which will work hard to prepare for this match in order to enhance its score of points to advance more on the ranking ladder.