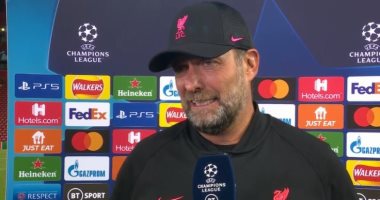 German coach Jurgen Klopp spoke about the Reds' exciting victory over AC Milan, 3/2, in the match that brought them together on Wednesday evening at "Anfield" in the second group matches of the Champions League competitions for the current season 2021/2022.
"It's the football I want to see most of the time," Klopp said after the match. "We are experienced in this competition. I thought we played a great game with all the changes we've made."
Jurgen Klopp: "Amazing European nights at Anfield, I love it."
"In the summer transfer window, we all thought there would be a suitable offer, but it is clear that people do not watch football enough," Klopp said of Origi.
Jurgen Klopp said: "He played a great game, people forget how good he is.."
"We were punished for that in the last few minutes of the first half, we got swept away by our own football, we didn't keep it simple yet, offensively and defensively, we weren't organized anymore," said Jurgen Klopp.
Klopp continued: "We started very well, played a very good match. It was a strong match but football is also wise. We played in all the spaces we had to play and didn't even give them anything, I'm not sure exactly."
And Klopp spoke about Fabinho: "When we are organized, Fabinho is incredible and he can take on all the challenges we need for him. When the spaces are so big that he can't solve them anymore."
Klopp continued: "This is our selection from the fourth pot. Milan is in a really good moment. It's a tough group, that's why it's important to win this match. It doesn't decide anything but it gave us a successful start."
Jurgen Klopp Tonight: "It was almost 100% because it was a great and exciting game regardless of the (10 or 15) minutes when we lost a little bit. We drifted into football and made it complicated."
And Juergen Klopp added: "We stopped filling the gaps and so on. We had time to adjust them, and after that we played good football and scored two goals."
Jurgen Klopp said: "Everyone knows that Milan can definitely go far in this group, it is really good that we won tonight because we need every point in this group."
Jurgen Klopp explained: "It's hard to tell everyone during tonight's warm-up why they're not playing but we need to be reasonable. Players are coming back from injuries. Keita started, Henderson played a great game, and Fabinho too."
Jurgen Klopp said: "I wasn't angry in the first half. We saw it coming and tried to get the message across, but it didn't work because of the great atmosphere on the field. We started to complicate it."