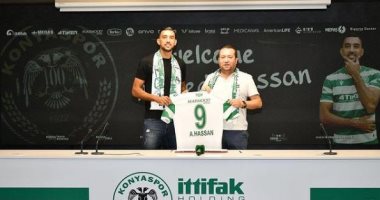 The Egyptian striker, Ahmed Hassan Koca, who recently transferred to the Turkish Konyaspor ranks, expressed his enthusiasm to play in front of the fans of his new team, after his transfer today from Olympiakos of Greece in a new station in his career.
And Coca published a picture of his presentation to the media on his page on the "Instagram" website, and wrote: "Excited for the new chapter in my life, thank you for your welcome messages. I can't wait to play in our stadium with our fans."
Konyaspor managed to sign the Egyptian international before the end of the summer Mercato, which ends today, Wednesday, September 8, after he became the third striker in Olympiacos.
The Turkish club Konyaspor submitted an official offer during the past hours, to sign the Egyptian international Ahmed Hassan Koca, the striker of the Greek club Olympiacos, before the end of the summer transfer market.
Olympiacos coach Pedro Martinez intends to rely this season on both the newcomer from the Chinese League and the Tianjin Teda team, Tekinho, and then the team's top scorer in the past years, Youssef Al-Arabi, and thus Coca's opportunity to participate in the matches is difficult.
And Koca went on loan to the Turkish team for one season, and the contract will include a condition of eligibility to buy at the end of the loan period in June 2022 if Konya wishes to include Koca.
According to the Greek channel Nova Sports, Konya made the offer during the past hours, and asked Olympiacos to specify its demands to dispense with Coca, and therefore the channel explained in its report, that the next few hours will witness new developments in the deal.