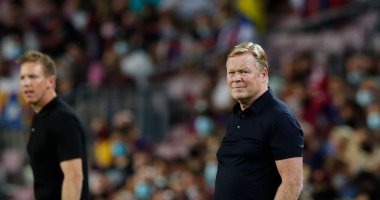 Dutch coach Ronald Koeman listed the reasons that led to his team's 3-0 loss against Bayern Munich in the match that took place between them on Tuesday evening at the Camp Nou, in the Champions League competitions for the current season 2021-2022.
Ronald Koeman said during the match's press conference: "We started the match well, we were unlucky in the first goal, with the second goal we received, the match was really complicated for us."
The Barcelona coach added: "Bayern proved that he is better than us, it is true that the team played well in the first half, but Alba was sick last night."
Ronald Koeman continued: "Young people have shown the future this is what is there, we have to hold out for a few weeks because later we will heal people like Sergio Aguero, Dembele, Ansu Fati."
Koeman stressed: "I only had three strikers available for today's match, nothing more, they play with a lot of players in the middle, we tried, and we would have liked to compete better, but that's what the team is."
"I can't complain about the situation as teams because of the quality and as a team, who have been together for a long time, in two and three years our youth will be much better, and it is very difficult to accept the moment, but that is what it is," Koeman noted.
Koeman concluded his statements: "The whistles against Sergi Roberto did not please me, he is not a player on the sides, and it is difficult to play one against one against Davis, the fans understand the situation today."
In a related context, the global network "Opta" specialized in football statistics and figures revealed a historical negative number that occurs for the first time to Barcelona, ​​​​after the heavy defeat that the Catalan team suffered for Bayern Munich 0-3 in the match that was held on Tuesday evening at the "Camp" stadium. Nou" is part of the Group E matches of the Champions League for the current season 2021/2022.
The network said: "Barcelona lost three consecutive matches at home in European competitions for the first time in its history 0-3 against Juventus, 1-4 against Paris Saint-Germain and 0-3 against Bayern Munich."
The network indicated that Barcelona lost the three matches with a score of 10/1 in one of the most confrontations in which the team received goals at home and among its fans.