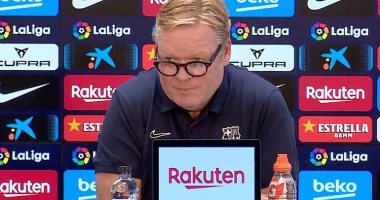 Dutch coach Ronald Koeman, coach of Barcelona, ​​​​said about the return of Spaniard Ansu Fati to participate with the Catalan team, after recovering from injury and his position on facing Levante tomorrow in La Liga..
Barcelona will host its counterpart Levante at 4:15 pm, tomorrow, Sunday, in the seventh round of the Spanish League, at the Camp Nou stadium..
Koeman said in the press conference for the presentation of the Levante match, "Fati's return is very important for the team in the next stage, and he will not be essential in tomorrow's match, as he participates for only 15 minutes.".
The Barca coach added, "I cannot talk about the alternative names that have appeared, I do not read the press, I know the rumors and the only thing we can do is win tomorrow, and I must learn to be calm, in the end I am a person and there are moments in the matches that are difficult to accept."."
The coach of Barcelona indicated that the president is the most important person in the club and can always speak and give his opinion..
Koeman continued, saying, "We all want to win trophies, of course, I spoke with the players and they agreed. In front of Kadesh we created 5/4 dangerous chances, but do not forget that we lost effective players in attack due to injuries. I would like to be there, especially in difficult moments. We need to." The three points would relax us, I won't complain about this issue, it's complicated, as I didn't agree with some things in the match and I have to learn from this to be calmer, I'm also a human being and there are situations that are difficult to accept.".
The Dutchman continued his statements, saying, "Ansu is still far from being the same as before, he has been out of action for a long time and his injury cannot be recovered in just two weeks, if he is fully ready to play a full match in November we will wait until November, if He was ready before he will play."
Ronald continued, "I know rumors are always there on the pages, but all I focus on is winning matches with Barcelona, ​​there will always be rumors and candidates."".
He continued, "I know the difficulty of the coaches' task in clubs, this is our job, and I will not waste my time on things that I cannot control."".
Regarding Laporta's statements about his future with Barcelona, ​​​​he said, "The president is the most important person in the club, he can speak and express his opinion on everything, but I only care about my work with the players to win, what is more than that I do not care."".
And about his sudden statement before the Cadiz match, he said: "Since that day, nothing has happened, I spoke with the president on the plane about the match, and nothing else.".
Koeman concluded his statements about his two-match ban and his absence against Levante, and said: "I want to be next to the team, especially in difficult moments. Talk in the game you are not satisfied with it, but you must learn from what happened to be calmer because I am human in the end".