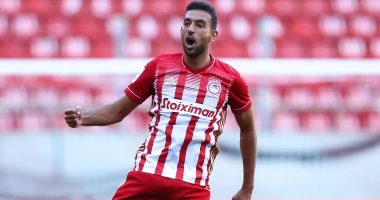 Greek media reports confirmed, today, Tuesday, that the Turkish club Konyaspor submitted an official offer during the past hours, to sign the Egyptian international Ahmed Hassan Koca, the striker of the Greek Olympiakos club, before the end of the summer transfer market..
And there are hours left to the end of the summer Mercato, as it ends in Turkey tomorrow, Wednesday, September 8, amid news of the possibility of Coca moving there, especially as he became the third striker in Olympiacos.
Olympiacos coach Pedro Martinez intends to rely this season on both the newcomer from the Chinese League and the Tianjin Teda team, Tekinho, and then the team's top scorer in recent years, Youssef Al-Arabi, and thus Coca's opportunity is difficult to participate in the matches..
Network confirmed "sdna" Greek club Konyaspor has offered to sign Coca in the coming hours, and Olympiacos has a desire to leave the player on loan.
The network added that the contract will include an eligibility clause at the end of the loan period in June 2022 if Konya wishes to include Coca..
According to the Greek Nova Sports channel, Konya made the offer during the past hours, and asked Olympiacos to specify its demands to dispense with Coca, and therefore the channel explained in its report, that the next few hours will witness new developments in the deal..
For his part, Koca published a video on his account on the social networking site "Twitter", while he was on the plane and did not comment on it.
She channel VOLE The Turkish electronic website, Konyaspor, has submitted an official offer to Olympiakos to acquire striker Ahmed Hassan "Koka".".