The Statue of Liberty has been known for more than a century as one of the most preeminent symbols of American freedom – but now a Washington Post writer appears to be making the statue another target of cancel culture.
Philip Kennicott, an art and architecture critic who won a Pulitzer Prize in 2013, argues in an essay published Saturday that Lady Liberty stands for "hypocrisy and unfilled promises."
Kennicott's piece, titled, "Maybe it's time to admit that the Statue of Liberty has never quite measured up," was accompanied by an illustration of the famous statue resting on someone's fingertip – as if the statue were only a fraction of an inch tall instead of 151 feet (305 feet including the base).
In arguing that the statue in New York Harbor has grown irrelevant, Kennicott uses as evidence the fact that he spotted no representations of the statue when he visited a Chicano art exhibit at the Smithsonian American Art Museum in Washington.
OLD GWEN BERRY PHOTO OF HER HOLDING AMERICAN FLAG GOES VIRAL AMID ANTHEM UPROAR
He concludes from that one example that although the statue is as "familiar to some Americans as the flag, the statue is just as meaningless or foreign to others, a sign without significance, or worse, a symbol of hypocrisy or unfulfilled promises."
Later, he argues that the statue has meaning mostly for descendants of European immigrants and less so for Americans whose families originate from other parts of the globe.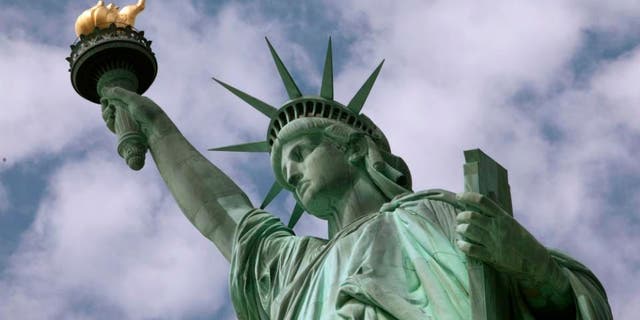 STATUE OF LIBERTY'S 'LITTLE SISTER' ARRIVES IN UNITED STATES FROM FRANCE IN TIME FOR FOURTH OF JULY
Kennicott notes there have been high points in Lady Liberty's popularity as a globally known beacon of freedom – such as when President Ronald Reagan celebrated the statue during his time in office and when "she served as a marker of resilience for New Yorkers scarred by the attacks of Sept. 11, 2001."