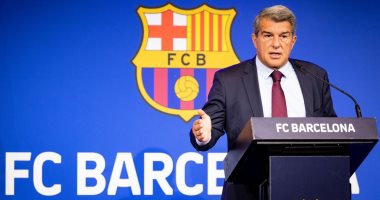 Joan Laporta, president of Barcelona, ​​was keen to absorb the great public anger after the harsh defeat of the Catalan team yesterday against Bayern Munich, by three clean goals, in the match that was held at the Camp Nou in the framework of the first round of the Champions League matches.
"Hello Barcelona fans, I am in pain and angry like all of you, I must tell you that what is happening is one of the scenarios we have considered," Joan Laporta confirmed during a video broadcast on his official account on the social networking site "Twitter".
Laporta stressed during his speech to the fans: "I ask you to be patient and continue to support the team, and I also ask you to trust those who run the club."
And Juan Laporta continued: "We need this margin of confidence, and there is no doubt that we will fix the current situation and we will overcome this situation."
Barcelona
Barcelona is bottom of Group E in the Champions League with zero points, after losing the historic Bayern Munich yesterday, and Barcelona is seventh in the Spanish league standings with 7 points, and it has a postponed match.
In a related context, Barcelona president Joan Laporta gave Dutch coach Ronald Koeman a last chance to see a new Barca, after the humiliating defeat against Bayern Munich 0-3 in the first round of the group stage of the Champions League.
Barcelona
And according to the Catalan newspaper "Sport", Barcelona president Joan Laporta gave Barca coach Ronald Koeman a last chance during the next 3 La Liga matches, against Granada, Cadiz and Levante, respectively, to change the situation.
She added that if Barcelona falters during these matches, there will be an emergency meeting to decide the future of the Dutch coach inside the "Camp Nou".