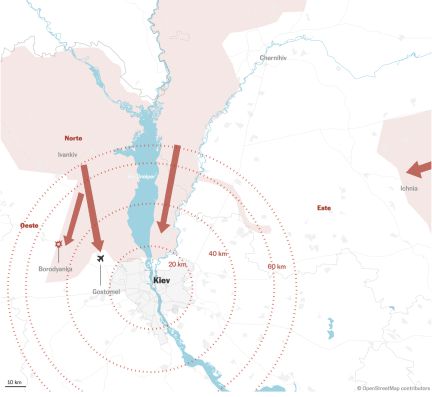 Russian troops are preparing a three-pronged siege of Kiev, according to the Institute for the Study of War (IWS). The Russians have been near the capital for days to the north, in the Gostomel airport area, about 30 kilometers away. There they would have the bulk of their contingent, according to UK intelligence.
The invaders could also try to reach the city from the west. In the last hours there have been bombings in Borodyanka, 60 kilometers northwest of the capital. There are also images of tanks opening fire between civilian buildings.
The third front of the offensive on Kiev would be to come from the east, if they advance from the already won territories near Chernihiv, they could meet forces advancing from Sumy. Russian troops have been located in Bobrovytsya, some 80 kilometers northeast of the capital.
"The objective is to surround the city and force mass evacuations of Ukrainian civilians," suggests analyst Franz-Stefan Gady, from the International Institute for Strategic Studies (IISS).
The rest of the offensive on Ukraine
In the northeast, fighting continues in Kharkov, according to a statement from the Ukrainian Army collected by the BBC. The second Ukrainian city is one of the main fronts of the invasion.
In the south of the country, Russian troops control Berdyansk, forcefully enter Kherson and claim to have surrounded the large town of Mariupol. With their latest advances, they unite two vast areas that were under their control, Donbas and Crimea.
The Russian army has intensified bombing raids on Kiev, Kharkov, Chernihiv and Mariupol since Tuesday, according to British intelligence. Dozens of missile impacts against civilian buildings are counted.
By M. Zafra, K. Llaneras, D. Grasso, J. A. Álvarez, L. Sevillano Pires
Check here all the maps of the war in Ukraine