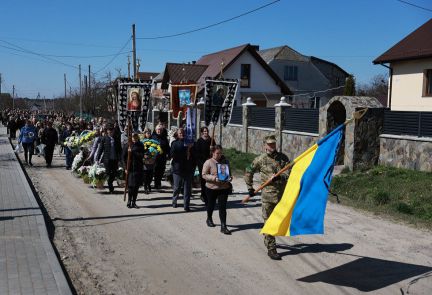 What has happened in the last hours in Ukraine
On the 50th day of the war initiated by Russia against Ukraine, these are the key data at 8:00 p.m. on Thursday, April 14:
Crossing of accusations for a series of explosions in Russian territory. Moscow and kyiv have accused each other of a series of explosions that have occurred on Russian territory. According to the Russian authorities, several villages near the Ukrainian border have been attacked and several wounded, while the Government of Volodímir Zelenski assures that everything is a setup to encourage military actions against him. These incidents have taken place just days after several regions raised the level of terrorist alert and the Kremlin threatened to bomb Ukrainian "decision-making centers" if, according to its version, "sabotage and attacks against infrastructures in Russian territory continue". ".
Ukraine reports exchange of 30 prisoners with Russia. The Ukrainian deputy prime minister, Irina Vereshchuk, has reported on her official Telegram channel of a new prisoner exchange with the Russian authorities. The exchange has been organized by both parties and authorized directly by the Ukrainian president, Volodímir Zelenski, after an agreement with Russia to release 30 people, including 22 soldiers, Vereshchuk has detailed. In addition to the 22 uniformed men, among whom there are five officers, eight civilians "have returned home", she has celebrated. This is the fourth prisoner exchange that both sides have agreed to since the Russian offensive in Ukraine began on February 24.
More than 4.7 million refugees from the war in Ukraine, according to the UN. More than 4.7 million citizens have fled Ukraine since the Russian offensive began on February 24, according to data from the United Nations High Commissioner for Refugees (UNHCR). About 90% of those fleeing are women and children.
Navalni asks the tech giants for a "big campaign" of anti-war propaganda in Russia. Russian opponent Alexei Navalni, currently in prison, has called on Twitter for tech giants to allow a "major campaign" of anti-war propaganda in Russia. For Navalni, "the majority of Russian citizens have a biased view of what is happening in Ukraine", he has indicated. According to him, the support for the war that the regime presumes is not such: "Russia has closed and blocked all independent media in a month and a half. Would it have been necessary if the war with Ukraine had that kind of support?"
The IMF warns that the war in Ukraine and inflation will slow global growth in 2022 and 2023. The International Monetary Fund (IMF) it does not foresee a world recession, but it does lower its growth forecasts for 2022 and 2023 due to the war in Ukraine and its effect on inflation, as announced by the general director of the institution, Kristalina Georgieva.
Putin claims that Western banks are "delaying" payments for Russian gas. The Russian president has stated that banks from "hostile countries", as the Kremlin calls those who have imposed sanctions on Russia after its invasion of Ukraine, are "delaying" payments for Russian energy, according to the Interfax agency. Putin has spoken of the need to find new consumers for Russian gas, both inside and outside the country.
In the picture, of Joe Raedle (Getty) a Ukrainian soldier, who carries an official flag of the country, leads a procession that goes to the cemetery of the town of Starychi, where a comrade in arms will be buried. Starychi is a small town in western Ukraine, just 20 kilometers from the border with Poland, and another 20 kilometers from the Yavoriv military base, which was bombed in mid-March by the Russian Army. Here you can see a selection of images from the war in Ukraine on the 50th day of the Russian invasion.