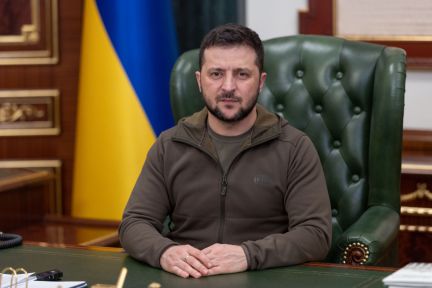 Zelensky is cautious about Irpin's release: "The situation is still very difficult"
The president of Ukraine, Volodímir Zelenski, was cautious this Monday before the liberation of the city of Irpin, on the outskirts of kyiv, after expelling the Russian forces, and warned that the situation in the country "remains tense, very hard". "Today we have good news. Our defenders are advancing in the kyiv region, regaining control of Ukrainian territory. Irpin was released," Zelensky said late Monday in a message posted on the presidential website.
The president's statement corroborated the announcement made earlier by the mayor of Irpin, Oleksandr Markushyn, through his Telegram account. "Irpin is free from the Russian horror. Glory to Ukraine," the mayor said, according to the Ukrainian news portal Ukrinform.
That city was the scene of heavy fighting between Russian troops trying to reach the capital and the Ukrainian army. At the end of last week, the Russian advance stalled, which was followed by Moscow's announcement that the first phase of the military operation was over and that it would now concentrate its efforts on the "liberation" of Donbas, in the East of the country.
Zelensky added that "the occupiers are being pushed out of Irpin. They are moving away from kyiv." The Ukrainian president said, however, that "it is too early to talk about security in this part of our region. The fight continues."
"The Russian troops control the north of kyiv, they have the resources and the manpower. They are trying to rebuild the broken units. The level of their losses, even 90%, is not an argument for them to stop. Hundreds and hundreds of burned and abandoned enemy team units do not convince them that this is going to happen to everyone," he warned. And he mentioned that in Chernigov, Sumy, Kharkov, Donbas, southern Ukraine, "the situation everywhere is still tense, very difficult."
According to Zelensky, the "merciless war" against the Ukrainian people has claimed the lives of 143 children so far. "Mariupol remains blocked. The Russian troops did not allow any humanitarian corridor to be organized today, they did not allow 'silence'," he added. And he asked the population not to get euphoric or nervous. "We still need time. We still need weapons. We still have to fight, we still have to be patient. We can't burn emotions right now," he added. & lpar; Informa EFE & rpar;
Zelensky's photo is from the portal of the Presidency of Ukraine.