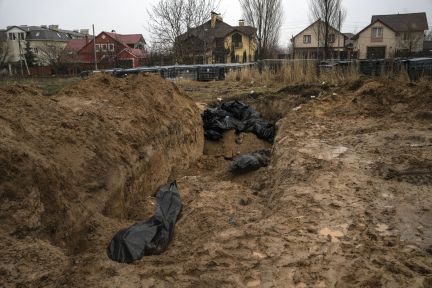 What has happened in the last hours in Ukraine
On the 39th day of the war initiated by Russia against Ukraine, these are the key data at 8:00 p.m. this Sunday, April 3:
Reactions to Bucha's images, the town on the outskirts of kyiv where hundreds of civilians have been killed or even executed, marked the afternoon. The Ukrainian president, Volodímir Zelenski, has expressed his outrage on his Telegram account. "Russian mothers should see what bastards they have raised," he said, in Russian and English. "Murderers, looters, butchers." The Secretary Generals of the UN and NATO, as well as the leaders of the United Kingdom, France, Italy, Germany and Spain have also expressed their horror at the massacres, promising to investigate the responsibilities and condemn the perpetrators and to strengthen international sanctions against Russia. Moscow, for its part, has denied responsibility and accused the images of a "provocative montage" by Ukraine.
The Ukrainian prosecutor's office claims to have found 410 bodies in the towns around kyiv. The Ukrainian prosecutor's office, which is investigating potential war crimes in the towns around the capital, kyiv, after its liberation from Russian troops earlier this month, said this Sunday through the attorney general, Irina Venediktova, to have found at least 410 bodies, of which 140 have already been examined.
Nine informants have already died in the Ukraine war. The Russian invasion of Ukraine, which began on February 24, 2022, has claimed the lives of eight professional journalists and one citizen journalist. Of the list of deceased, six are Ukrainians, including the citizen journalist. Three of them are foreign informers. The latest victim was Maks Levin, a Ukrainian photojournalist who had worked as a photographer and cameraman for various national and international media. Levin, who had disappeared on March 13 near kyiv, was found dead on April 2 with two shots, presumably by the Russian Army.
kyiv claims that more than half a million Ukrainians have returned to the country since the invasion. Around 537,000 Ukrainians have returned to their country since the start of the Russian invasion on February 24, the Ukrainian Interior Ministry said on Sunday, citing data from the national border service. This figure indicates that there are refugees who are already returning to the country, but it is still far from the more than 4.1 million who, according to the United Nations office for refugees, have left Ukraine since the fighting began. "Over the past week, 144,000 people left Ukraine and 88,000 entered," the statement said.
In the photo, a mass grave in Bucha. (Rodrigo Abd / AP)