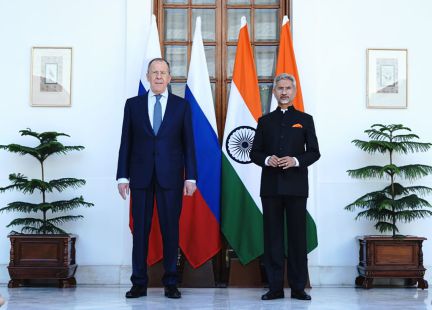 Lavrov presses India after Western emissaries defend Russia sanctions
Russian Foreign Minister Sergei Lavrov began meetings with Indian leaders in New Delhi on Friday after seeing his Chinese counterpart earlier in the week, in an attempt by Moscow to keep the powers Asian nations on their side amid Western sanctions. Lavrov's mission to shore up support from India, a country Moscow has long regarded as a friend, comes a day after top US and British officials held talks in New Delhi to persuade the Indian government to avoid undermining sanctions imposed after Russia's invasion of Ukraine. India and China are the only major countries that have so far not condemned Russia's actions. After Lavrov visited China this week, Beijing said it was "more determined" to develop bilateral ties with Russia. "We appreciate that India is taking this situation in its entirety and not just unilaterally," Lavrov said during his meeting with his Indian counterpart Subrahmanyam Jaishankar. "We continue to implement projects in the areas of energy, science and technology, outer space, and the pharmaceutical industry." Jaishankar, for his part, explained that bilateral relations have been expanded, but that they would have detailed discussions on the current "difficult international environment". "India, as you know, has always been in favor of settling differences and disputes through dialogue and diplomacy," Jaishankar added.
Apart from India's importance as the third largest economy in Asia, it is also currently a non-permanent member of the United Nations Security Council, giving it additional diplomatic weight. Since the war broke out, India has bought millions of barrels of crude from Russia at a discount, justifying the purchases as beneficial to its citizens. India has also agreed to buy sunflower oil from Russia at a record price after supplies from Ukraine stopped due to the war. Defense analysts say New Delhi cannot afford to alienate Russia, which has been its biggest arms supplier for decades.
In this same briefing after the talks with his Indian counterpart, Sergey Lavrov commented that some progress had been made in the peace talks with Ukraine and that Moscow was preparing its response to the Ukrainian proposals. The Russian Foreign Minister has assured that the peace talks with Ukraine should continue, but that kyiv had shown "much more understanding" of the situation in Crimea and Donbas and the need for their neutral status.
These statements come after the Kremlin spokesman, Dmitri Peskov, reported last Wednesday that they had made no progress in the negotiations with Ukraine, although he did note some "positive" points in the conversation. A way, in turn, of lowering the expectations created the day before by the head of the Russian delegation, Vladimir Medinski, who alluded for the first time on Tuesday to the possibility of a "treaty" between Moscow and kyiv after negotiations that described as "constructive". (Reuters and EL PAÍS)
Photo: Russian Foreign Minister Sergei Lavrov and his Indian counterpart Subrahmanyam Jaishankar before their meeting in New Delhi on Friday. (Twitter/AP)