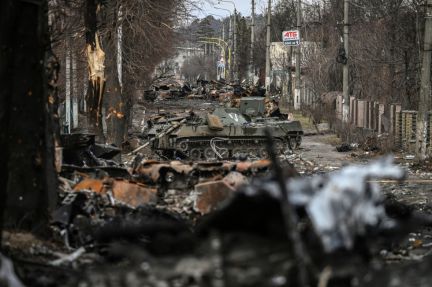 What has happened in the last hours in the Russian invasion of Ukraine
On the 30th day of the war initiated by Russia against Ukraine, these are the key data at 2:00 p.m. this Friday, March 25:
Ukraine claims that some 300 people were killed in the attack on the Mariupol theater. At least 300 people were killed by the Russian troops' bombardment of the Mariupol theater, in southeastern Ukraine, on March 16, the town's City Council reported on Friday from witnesses to the massacre. If this figure is confirmed, which has not yet been verified by independent sources, it would be one of the largest massacres since the Russian invasion began on February 24.
The US offers more natural gas to Europe to reduce its dependence on Russia. The US and the EU have reached an agreement whereby the former will supply the latter with 37,000 million cubic meters of liquefied natural gas this year, which is 68% more than in 2021, to reduce dependence on Russia. "Putin uses the gas to manipulate his neighbors and to finance the war," said US President Joe Biden.
The UN has evidence of the existence of mass graves in Mariupol. UN inspectors have evidence that in the coastal city of Mariupol, in the southeast of the country, there are mass graves that could contain up to 200 bodies, the head of the UN human rights team in Ukraine reported on Friday.
Russian troops bomb checkpoints near Chernobyl. Ukrainian authorities have told the International Atomic Energy Agency (IAEA) that Russian troops on Thursday bombed several Ukrainian checkpoints in Slavutich, where many people who work at the nearby nuclear power plant live. Chernobyl.
Russia denies using phosphorus bombs. Moscow on Friday denied any violation of international law after being accused by Ukraine of having used phosphorus bombs as part of its military intervention in the country. "Russia has never violated any international convention," said Kremlin spokesman Dmitri Peskov, according to AFP. The use of phosphorous bombs is considered illegal under the 1997 Chemical Weapons Convention.
In the image, by Aris Messinis, Russian armored vehicles destroyed in the city of Bucha, west of kyiv, on March 4. You can see more photos from the first month of war in Ukraine here.