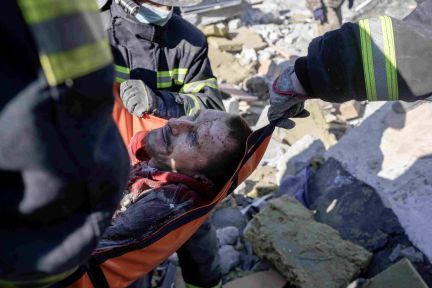 What has happened in the last hours in Ukraine
On the 24th day of the war initiated by Russia against Ukraine, these are the key data at 2:00 p.m. this Saturday, March 19:
The fighting reaches the center of Mariupol and Ukraine loses control of the Sea of ​​Azov. The Government of Ukraine lost access to the Sea of ​​Azov on Friday night after Russian troops strengthened their control over the main sea port, in the city of Mariupol, besieged and suffocated for more than two weeks by the Army of Vladimir Putin. "The invaders have been partially successful in the Donetsk operational district, temporarily depriving Ukraine of access to the Azov Sea," the Ukrainian Defense Ministry said in a statement on Saturday. "There is nothing left of the city center. There is not a small piece of land that does not have signs of war," the mayor of Mariupol, Vadym Boychenko, told the BBC hours before, reporting that Russian troops had already reached the center of the city, where more than 80% of residential buildings are damaged or destroyed and where the population is without water or electricity.
Russia claims to have used a hypersonic missile 100 kilometers from the NATO border. The Russian Defense Ministry has assured this Saturday that it has used Russian Kinzhal hypersonic missiles to destroy a Ukrainian underground warehouse "containing missiles and aviation ammunition", in Deliatin, in western Ukraine. The facilities, 108 kilometers from the The border with Romania, a member of NATO, have been "destroyed," according to Russian defense spokesman Igor Konashénkov.This technology, which Russia has possessed since 2018, has the ability to avoid anti-aircraft defenses and is launched from a fighter. hypersonic reaches a speed of at least five times the speed of sound, more than 6,000 kilometers per hour There are two types, gliders and cruisers Both can be maneuvered to change their trajectory in flight, and are virtually unstoppable at low flight .
The United Kingdom calls the Russian "smokescreen" the peace talks between Moscow and kyiv. The British Foreign Minister, Liz Truss, warned this Saturday that the peace talks between Russia and Ukraine could be used as a "smokescreen" by the Kremlin to regroup troops with which to undertake a new offensive. In an interview published today by the British newspaper The Times, the head of the United Kingdom diplomacy expressed these fears, while indicating that it is up to the Ukrainian president, Volodímir Zelenski, to choose how his country approaches this peace dialogue. According to the minister, if Moscow were serious about these peace talks with kyiv, it would not employ the military methods it is currently using to attack Ukraine: "If a country is serious about negotiations [de paz]does not indiscriminately bomb civilians on a daily basis," the conservative politician observed.
Poland proposes that the EU completely cut off trade with Russia. Polish Prime Minister Mateusz Morawiecki called this Saturday for a total break in the European Union's trade relations with Russia, which would be a drastic tightening of the sanctions that the EU has imposed on Moscow in retaliation for the invasion of Ukraine. "We are proposing that a commercial blockade be added to the sanctions package as soon as possible, both by sea and by land," Morawiecki said. "To nip Russia's trade in the bud would force them to consider whether it would be better to end this cruel war."
In the photo, the rescue of a Ukrainian soldier after 30 hours in the rubble of a bombed-out barracks in Mikolaiv, in the south of the country. (Bulent Kilic / AFP)