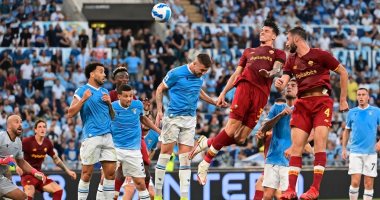 Lazio finished the first half of its match against Roma, leading by 2-1 in the match currently being held between them at the "Olympico" stadium, as part of the sixth round of the Italian Serie A championship for the current season 2021/22.
Lazio's goal came through Sergei Savic in the 10th minute, and Pedro Rodriguez in the 19th minute, while Roma's only goal was scored by Roger da Silva in the 41st minute.
The Olympic Stadium hosts 20,000 fans to watch the derby between Lazio and Rome, as it witnesses a 50% audience, equivalent to 20,000 fans, divided equally between the Roma and Lazio fans..
According to Opta, the global network specialized in player numbers, Pedro is the third player able to score in the Roma derby in the Italian league with both clubs, after Arne Selmonson and Alexander Kolarov.
Roma is ranked fourth in the Italian league table with 13 points, while Lazio is in seventh place with 8 points.
And that match will be led by an arbitrator, Marco Guida, in the meeting, which will start at six in the evening.
The player, Lorenzo Pellegrini, is absent from the ranks of the capital team during this match, due to the suspension.
Roma will enter this match with the following formation:
Goalkeeper: Rui Patricio.
Defense: Karsdorp, Mancini, Ibanez, Fina.
Midfield: Cristante, Virtu, Zaniolo.
Attack: Mkhitaryan, El Shaarawy, Abraham.
While the formation of Lazio was as follows..
Reina – Marusic – Acerbe – Ramos – Hisai – Leva – Savic – Alberto – Pedro – Anderson – Immobile.