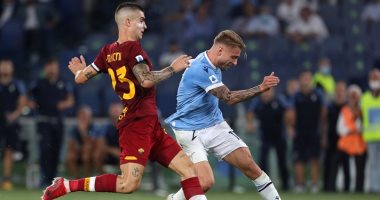 Lazio beat its neighbor Roma 3-2 in the exciting capital derby match that brought the two teams together on Sunday evening at the "Olympico" stadium, as part of the sixth round of the Italian League championship for the current season 2021/22.
Lazio ended the first half of their match with a 2-1 lead. Lazio's goal came through Sergei Milinkovic-Savic in the 10th minute, and Pedro Rodriguez in the 19th minute, while Roger da Silva scored Roma's only goal in the 41st minute.
In the second half, Brazilian Felipe Anderson doubled Lazio's lead by scoring the third goal in the 63rd minute, after following up on a pass by Ciro Immobile.
Goran Verto scored the second goal of the Wolves team in the 69th minute through a penalty kick, which the match referee awarded to Zanilo, the Roma player, after he was obstructed by the Lazio player.
Roma received their second defeat this season under the leadership of Jose Mourinho, after losing by the same result to Hellas Verona in the previous round.
Lazio raised its score to 11 points to occupy sixth place in the Italian league standings, while Rome's balance froze at 12 points in fourth place, and Milan leads the competition with 16 points.
The matches of the sixth round of Calcio will be completed with a meeting between Naples and its guest, Cagliari, at quarter past nine in the evening, Sunday.