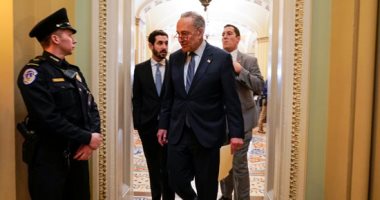 "It is not Congress that determines the elections, but the American people," said Chuck Schumer, leader of the Senate Democratic minority, stressing During the session of the US Congress during the ratification of the election results, what the Republicans are doing embarrass us all and embarrass the American people.
And Chuck Schumer continued: Unfortunately some Republicans may tarnish the image of our democracy, andWe can give a positive message by voting massively to refute the objections.
Earlier, US President Donald Trump said that he does not believe that the Georgia foreign minister is a Republican, mocking that he likes to record the calls, referring to the leaked call that revealed his pressure on officials to reverse the election result..
Describing him as fraudulent and corrupt, he said whoever heard the call loved it because it revealed the truth about the obstruction of the elections.