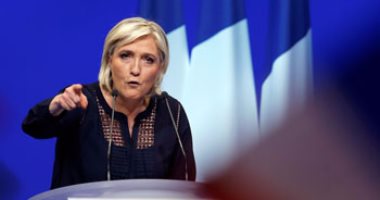 Marine Le Pen, the leader of the French National Front, has said she will run in the upcoming French presidential elections and have a lot of luck.
She added during her meeting with the "Paper and Pen" program on the "TEN" satellite channel, with the media, Nashat Al-Daihi, that extremist Islamists and terrorists are waging war on the world and wielding their weapons in the face of countries, stressing the need for international cooperation to confront terrorism, sharing intelligence information and adopting diplomacy with a common goal. Intelligence cooperation between countries is necessary to combat terrorism.
The leader of the French Right indicated that European leaders were unable to fight terrorism, their rhetoric and diplomacy did not achieve this goal and should have been in the interest of combating terrorism, stressing that fighting terrorism requires isolating the countries that support it, and the military axis is necessary for armies to be able to deter them.
And she continued, "I have been calling on the French government for years to ban the Brotherhood," noting that the Brotherhood imposes extremism and forms networks to attract youth.