Football fans around the world will be on a date with heavy-caliber confrontations in the Champions League group stage for the current season 2021-2022, as the matches open when the Swiss team Young Boys meet against Manchester United, which will start at seven in the evening today, Tuesday. At the "Swiss Wankdorf", in the first round of Group F.
Champions League
While the fans of the round witch are waiting for the Spanish team Barcelona and Bayern Munich at exactly nine o'clock this evening, Tuesday, also at the "Camp Nou" stadium in the Group E matches, especially since it is expected that the match will witness big clubs because it is considered revenge for the catastrophic memory of the Spanish champion after the loss. In the last confrontation between them, with eight goals to two goals in favor of the Bavarian in the same competition.
Champions League
Chelsea, the champion of the last edition of the Champions League, will host Zenit Saint Petersburg, Russia, at nine in the evening, at Stamford Bridge, in the first round of Group H of the group stage..
Meanwhile, the Egyptian star, Mohamed Salah, is awaiting strong confrontations with Liverpool in the second group competition, which begins against Milan, Italy, on Wednesday.
Champions League
We review the dates of the most powerful matches in the Champions League groups:
September 14 Barcelona x Bayern Munich
September 15 Liverpool x Milan
September 15 Inter Milan x Real Madrid
September 28 Paris Saint-Germain x City
September 28 Milan x Atletico Madrid
September 29 Juventus x Chelsea
October 19 Atlético Madrid x Liverpool
November 3 Liverpool x Atletico Madrid
November 23 Chelsea x Juventus
November 24 City x Paris Saint-Germain
November 24 Atlético Madrid x Milan
December 7 Milan x Liverpool
December 7 Real Madrid x Inter Milan
December 8 Bayern Munich x Barcelona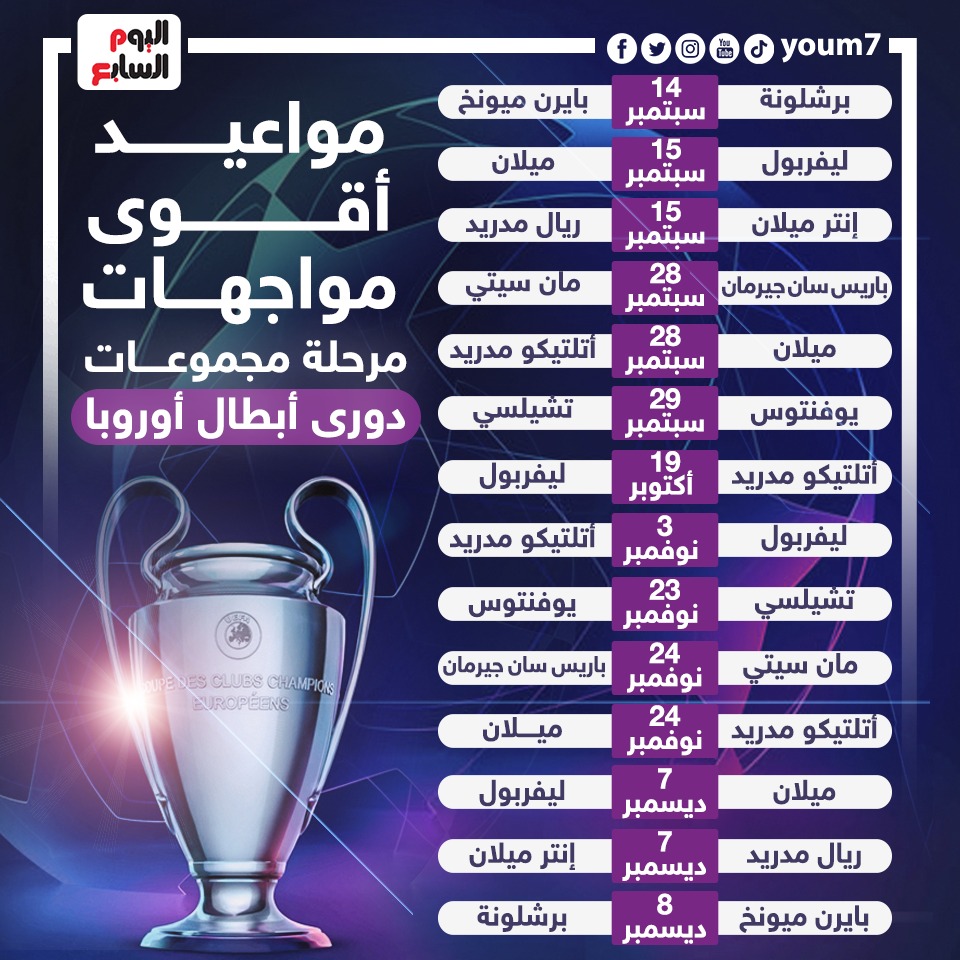 The most powerful matches of the Champions League group stage