The use of natural oils to solve various hair problems is one of the most important ancient treatments that have proven its effectiveness in improving the appearance of hair and overcoming its problems, and natural oils are among the best ingredients needed to moisturize hair and scalp, stimulate its growth, treat split ends, fill hair spaces and treat hair loss, because they contain high percentages of all nutrients. One of the essential vitamins and minerals for healthy hair growth.
And before using oils to treat damaged hair, the most important step is to choose pure natural oils of high quality from a reliable source, because only when the oils are real and natural, the results are guaranteed. From the source and quality of the oils before you start using them.
Hair and skin care expert, Dr. Rajaa Magdy, assistant teacher at the Faculty of Pharmacy, explains to "Youm7" the correct and healthy way to use hair oils.
The right way to care for hair with oils
The hair care expert said that the correct way to benefit from oils for hair is to use them as a warm oil bath, as it helps to stimulate blood circulation, which helps to supply hair follicles with nutrients and strengthen them and stimulate hair growth at a faster rate and increase its density, as it works to coat the hair from the outside and protect it from cracking. It is the sun.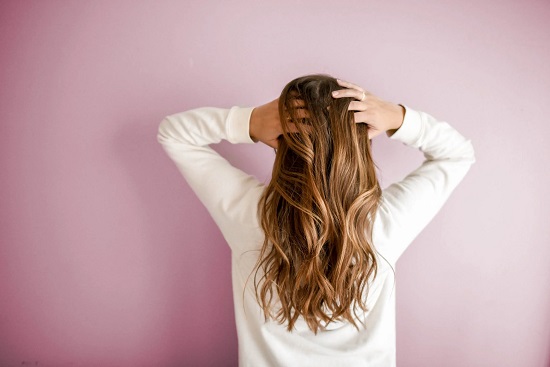 hair care

She added: Oil baths are one of the best effective treatments for damaged hair, simple and inexpensive, and suitable for all ages and all types of hair, and scalp massage leads to an increase in hair density at a clear rate, due to stimulating cells and nourishing hair tissues. Shampoo or conditioner did it to help nourish the follicles and internal tissues, and an oil bath also works to treat dandruff, as one of the most important causes of dry scalp skin and studies have shown that natural oils help reduce the appearance of dandruff effectively.
The correct way to do an oil bath:
The best hair oil bath varies according to the type and problem of your hair. Choosing the right natural oils for your hair according to the problem you are experiencing is one of the most important steps of hair treatment and one of the best oils for treating damaged hair (coconut, castor, argan, jojoba, olive, almond, sesame, wheat germ, rosemary, pumpkin, macadamia).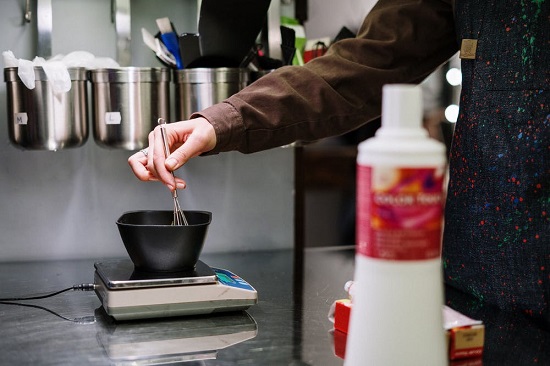 Confirm the nature of the hair oil
Best oil bath to remove dandruff
Coconut oil is characterized by its antibacterial and antifungal properties, which helps reduce dandruff. It also works to deeply moisturize dry and damaged hair and treat split ends. It also contains vitamin E in a high way, so it can be mixed with tea tree oil and used as a bath to eliminate dandruff.
Oil bath to improve the condition of the hair
Almond oil and wheat germ also contain a rich composition of unsaturated fatty acids, proteins and vitamins, which improve the condition of your entire hair, and fatty acids and vitamin E help moisturize and treat split ends.
Oil bath to moisturize hair
Olive oil is an ideal moisturizer for hair, and helps reduce hair fall. It is characterized by its antioxidant and antibacterial properties, which clean the scalp and stimulate hair growth. It works perfectly for dry and damaged hair.
Oil bath to increase hair density
Castor oil contains omega-9 fatty acids, which help to thicken hair, treat split ends and get rid of dandruff.
Dull hair treatment
The best oil ever comes, and it is the best Moroccan argan oil for treating dull and damaged hair, as it contains a huge percentage of unsaturated fatty acids, which helps restore hair hydration and maintain its vital appearance.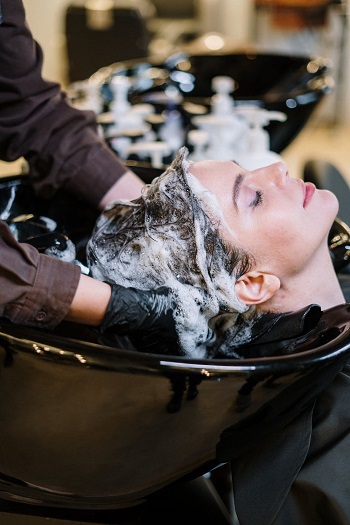 Rinse
Oil bath steps:
1. Put an appropriate amount of oil or oil mixture in a bowl, according to the length and density of your hair. Shea butter can be added to increase the effectiveness of the oil bath, especially for brittle hair.
2. Place the bowl in the microwave for 30 seconds or in a hot water bath for 1 minute.
3. After heating the oil, use it to massage the scalp and hair in circular motions for five minutes, to ensure the penetration of the oil into the scalp and between the strands.
4. Wrap your hair in a plastic shower cap, then wrap it with a cotton towel dampened with warm water or use a thermal cap.
5. Leave it for at least an hour to ensure the benefit of the mask's properties on your hair, and you can leave it for a longer period to benefit more
6. Wash your hair with a shampoo free of harmful chemicals such as sulfites, and use a hair conditioner.
7. The oil bath is repeated one to three times a week, according to the state of damage that the hair has reached.