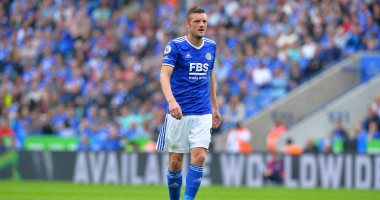 Jamie Vardy, Leicester City striker, threatens Pep Guardiola, the coach of the Manchester City team, in the fourth round of the English Premier League, at four in the afternoon, at the "King Power" stadium.
And the official account of the English Premier League on Twitter revealed that Leicester City striker Vardy is one of the dangerous weapons that threaten Manchester City tonight, as he scored 8 goals in 10 meetings he played against the Citizens, during the Pep Guardiola period.
He added that Leicester City striker Jamie Vardy is the player who has visited the nets of the teams coached by Pep Guardiola in the first degree.
Pep Guardiola had previously led Barcelona and Bayern Munich, before signing with Manchester City in 2016.
Manchester City is seventh in the English Premier League table with 6 points, after the last victory over Arsenal by five without a response in the last round.
On the other hand, Leicester City is in ninth place in the table with 6 points, after beating Norwich City with two goals to one in the previous round.
Manchester City began to regain its balance again in light of its desire to maintain its title for the second consecutive season, as Pep Guardiola relies on a group of his young stars along with the return from injury Kevin De Bruyne, while Leicester rely a lot on its veteran star Jimmy Vardy.
Leicester City and Manchester City confrontations usually refuse the result of a tie, as the last tie between them in the Premier League dates back to the 2015-2016 season, when they tied 0-0 at the same stadium, specifically on December 29, 2015.
Since that day, the two teams have faced each other in 11 league matches, and Manchester City won 7 matches, compared to 4 victories for Leicester City, and at the same time, the last 23 matches for Leicester City at home in the English Premier League witnessed one draw, compared to 12 wins and 10 losses. .