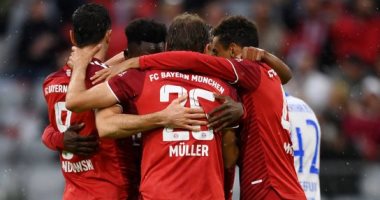 The German team Bayern Munich outperforms its rival Leipzig in the previous matches, before the meeting that brings them together at the Red Bull Arena, at 6:30 pm today, Saturday, in the fourth round of the German League competition.
And the statistics published by the official website of Bayern Munich revealed that tomorrow's confrontation bears the number 13 between the two teams, as they met face to face in 12 previous matches, including 10 in the German League and two matches in the German Cup.
Bayern Munich achieved a sweeping superiority in the past confrontations, as it achieved 7 victories over Leipzig, in addition to 4 draws, while the Bavarian team lost one match.
The Bavarian team managed to win over Leipzig in the last confrontation that brought them together, with a goal free of charge, and that was preceded by 4 draws in a row between the two teams.
Bayern Munich enters the meeting with high spirits, after the last victory against Hertha Berlin, with five without a response, to be in third place in the table with 7 points, as Bayern won two games and drew one.
Bayern Munich beat Hertha Berlin 5-0 in the recent match at the Allianz Arena in the third round of the German Bundesliga.