Bayern Munich coach Julian Nagelsmann has announced the list of players traveling to face Barcelona in the first round of the group stage of the Champions League.
And the list witnessed the presence of the trio whose fitness was doubted due to injury, and they are Robert Lewandowski, Serge Gnabry and Marcel Sabitzer.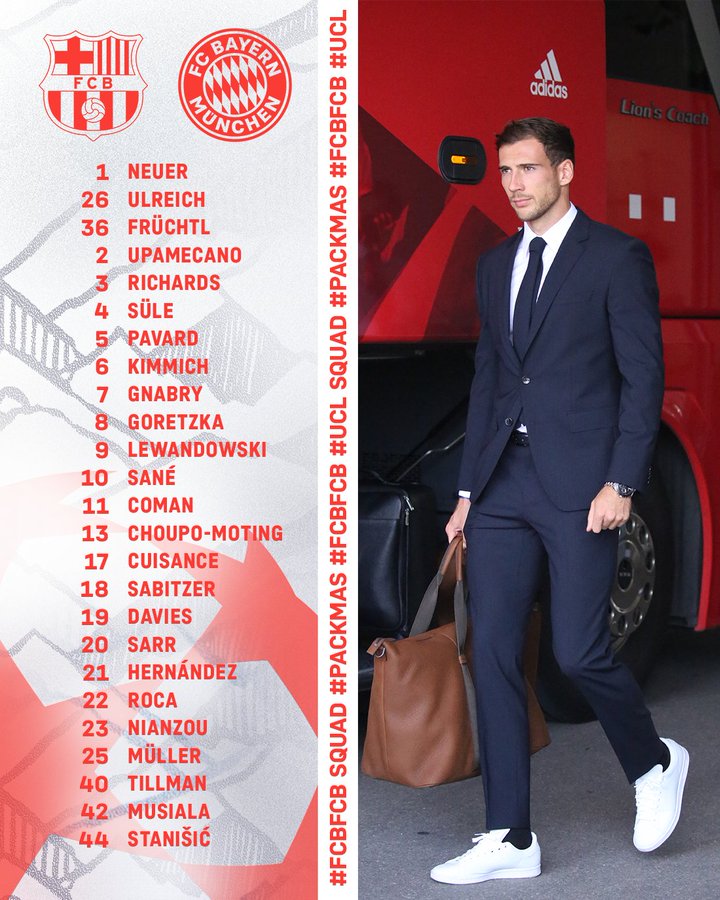 The list of Bayern Munich against Barcelona in the Champions League is as follows:
Goalkeepers: Neuer, Ulrich, Fruegel.
Defenders: Upamecano, Richards, Solh, Bavar, Sarr, Lucas Hernandez, Davies, Ninzo.
Midfield: Kimmich, Grotzica, Sabitzer, Roca, Tolisso, Coyson, Tillman.
Forwards: Gnabry, Lewandowski, Koeman, Sane, Chubu-Moting, Muller, Musila.
Barcelona will host its counterpart Bayern Munich at nine o'clock tomorrow evening, Tuesday, at the Camp Nou stadium, led by the English international referee, Michael Oliver.
The match is considered revenge in the first place after Barcelona fell in Group E in the group stage against Bayern Munich with a harsh score of 8-2, which prompted everyone to wonder, will Barca succeed in taking revenge on the Bavarian, in the Champions League season 2021-2022, especially after the departure of the legend Lionel Messi.
The Camp Nou stadium will open its doors against Barcelona against Bayern Munich, next Tuesday evening, in the first round of the group stage of the Champions League..
The Catalan team won the Champions League 5 times in the 1992, 2006, 2009, 2011 and 2015 seasons.