Today, Wednesday, September 22, marks the sixth anniversary of the entry of the Polish Robert Lewandowski in the record of the German football giants, after he made history with five goals in nine minutes, after he replaced his team Bayern Munich and his guest and runner-up Wolfsburg.
Lewandowski made his name in the history of the Bundesliga and scored five goals within 9 minutes to turn his team Bayern's goal clean in the first half to a crushing 5-1 victory over Wolfsburg in an exciting summit match Tuesday, September 22, 2015 in the sixth stage of the championship.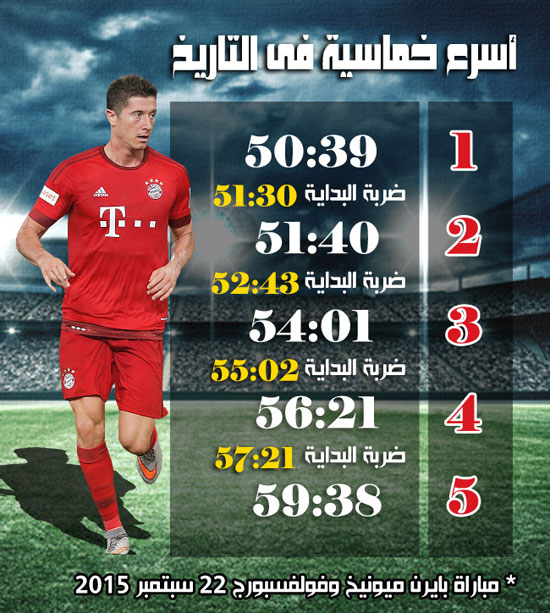 Polish international Robert Lewandowski confirmed that what was achieved in his team's match against Wolfsburg was amazing, indicating that he was not thinking about what was happening, but rather focused on shooting in the direction of the Wolfsburg goal.
"It was amazing, I just kept shooting on goal, I wasn't thinking about what was happening, we were one goal behind and I knew I needed to do something in the game, but five goals was amazing," Lewandowski said.
Lewandowski, who missed Saturday's match against Darmstadt due to injury, explained, "When you're on the pitch, you just want to play the ball. Coach Josep Guardiola didn't say anything. I knew what I needed. Scoring goals and winning matches. That's what I want."".
Wolfsburg ended the first half in favor with a goal scored by Daniel Kaliuri in the 26th minute, but Lewandowski, who participated in the beginning of the second half, turned the tables on the visiting team and scored five consecutive goals in the 51st, 52nd, 55th, 57th and 60th minutes, raising his score to eight goals and jumping to the top scorer list this season by a difference. Two goals in front of his colleague Thomas Muller and Gabonese Pierre-Emerick Obatamiang, the star of the Borussia Dortmund attack, and Lewandowski became the first player to score five goals in one match in the Bundesliga since Michael Toennis succeeded in this during the match that Duisburg won over Karlsruhe 6/2 on August 27, 1991 Tweens wrote on Facebook "I feel a bit sorry that my previous achievement is over, but what Robert has achieved has been amazing. Congrats Robert on it".
Substitute Lewandowski is superior to Toynes in that his five goals came in just ten minutes, which represents an achievement in the history of the Bundesliga.