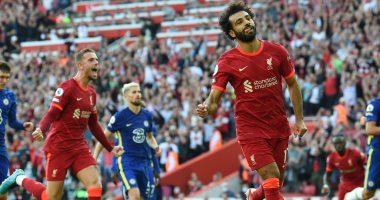 The Egyptian star, Mohamed Salah, player of the Liverpool team, topped the list of the most prominent records expected against the Reds and his counterpart Leeds United, which is scheduled to be held at five thirty in the evening, Sunday, at the "Island Road" stadium, as part of the fourth round of the English Premier League competition "Premier League". For the current season 2021-2022.
Mohamed Salah needs to score a goal against Leeds to reach the 100th goal in his Premier League career.
Mohamed Salah scored his 99th goal in the Premier League in the last meeting against his former club Chelsea at Anfield, with whom he also scored two goals in the competition during the 2013-2014 season.
And the official website of the Liverpool club stated that if Mohamed Salah scored against Leeds United on Sunday in his 162th match in the English Premier League, Salah would become the fifth fastest player to reach 100 goals in the Premier League.
The statistic published by the site added that Mohamed Salah managed to score 16 goals in the last 20 matches he played abroad in all competitions.
Liverpool
On the other hand, Mohamed Salah plays 6 matches with Liverpool in various competitions during the month of September, after the end of the international break, with 3 matches in the English Premier League, two matches in the Champions League and a match in the English League Cup..
Liverpool's first match away from home with Leeds United comes in the fourth round of the Premier League on the 12th of this month, then Milan hosts the Italian in an awaited confrontation with the opening of the Champions League group stage on the 15th.
Liverpool will also clash with its guest Crystal Palace in the English Premier League on the 18th, before visiting Norwich City on the 21st in the third round of the League Cup..
Mohamed Salah and his companions will be a guest of the newly promoted team Brentford in the Premier League on the 25th in the sixth round competitions, to conclude their confrontations in September against its host, Porto, on the 28th.