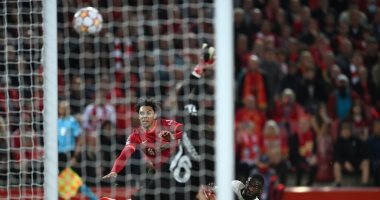 Trent Alexander-Arnold scored Liverpool's first goal against AC Milan, in the ninth minute, in the match between the two teams at "Anfield", in the first round of the second group stage of the Champions League group stage, making the score 1-0 for the Reds.
Arnold scored the goal after receiving a pass from Mohamed Salah to launch into Milan's defenses and hit a powerful ball into the goal.
The second group also includes Atletico Madrid of Spain and Porto of Portugal, where the match between the two teams will be held at the same time.
The Egyptian star, Mohamed Salah, is at the head of the Liverpool squad in today's meeting, while the Brazilian Roberto Firmino is responding to the Reds due to injury, while the Swedish Zlatan Ibrahimovic is the most prominent absence of Milan.
Liverpool

Goalkeeper: Alisson Becker
Defenders: Trent Alexander-Arnold, Joe Gomez, Matip, Robertson
Midfield: Fabinho – Henderson – Keita
Forwards: Mohamed Salah, Diego Jota, Origi
Milan

Goalkeeper: Manyan
Defense Line: Calabria – Caier – Tomori – Theo Hernandez
Midfield: Ismail Bennacer – Casey – Salemakers
Forwards: Brahim Diaz – Liao – Rebic
Liverpool vs Milan

The Liverpool team begins its campaign in the European Champions League, after a great brilliance in the English Premier League, where it tied in one match and achieved 3 victories, the last of which was the victory over Leeds United with three, on a historic night for the Egyptian star Mohamed Salah, who reached 100 goals with the Reds as the fifth fastest. A player who reaches this number in the Premier League.
Liverpool share the top spot in the English Premier League table, with Manchester United and Chelsea, with 10 points.
In the Liverpool match against Milan, the Egyptian star, Mohamed Salah, is looking for his 26th goal in the European Champions League over the history of his participation with the Reds, in the continental competition.
On the other hand, the AC Milan team led by Stefano Pioli is going through a stable period in the Italian league this season, as he made a more than wonderful start and achieved 3 consecutive victories in the tournament, to share the top of the competition table, with 9 points with both Roma and Napoli.