Liverpool, the professional club within its Egyptian international ranks, Mohamed Salah, the first Egyptian striker, announced today, Wednesday, that he will move forward with the implementation of the expansion project for Anfield Stadium, the team's stronghold, with the foundation stone being laid next week..
Liverpool said in a statement that it will hold a groundbreaking ceremony next week.
The ancient club explained that the redevelopment of Anfield Stadium will add seven thousand additional seats, bringing the total capacity of the stadium to sixty-one thousand spectators, provided that construction work continues during the season, but without affecting the possibility of hosting its home matches..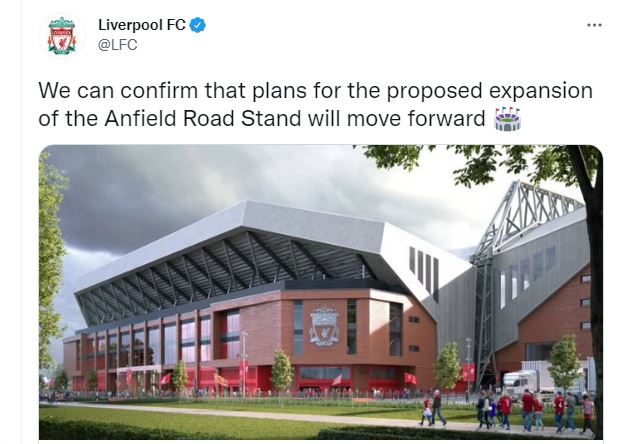 Liverpool had been planning expansion work for a long time, but it postponed implementation due to the Corona pandemic, as well as the lack of sufficient financial liquidity in light of the clubs affected by the cessation of football activity, and then playing matches without fans..
Liverpool explained that work on the project will start through the foundation stone-laying ceremony next week, and aims to redevelop the stands to accommodate another 7,000 seats, bringing the stadium's capacity to more than 61,000 fans..
The Reds confirmed that the new sections in the stands will be similar to the main stand that has been redeveloped, and construction work will continue during the season while the team's matches continue to be hosted in the stadium, as Liverpool explained on their website..
The redevelopment of the stand will see an additional 7,000 seats added to Anfield, bringing its total capacity to more than 61,000 and making it the third largest stadium in the Premier League after Old Trafford, Manchester United and Tottenham Hotspur..
In June, Liverpool obtained permission from Liverpool City Council to move forward with its plans, and also received the green light to organize up to six major concerts and events at the stadium over five seasons..
Andy Hughes, director of Liverpool, said: "We have been clear from the start that we need the cooperation of the local population to successfully implement the plans for the complex and to ensure that the project is financially viable.."
"We needed certainty about the progress of this project and we are now in a position to move forward. We started this journey in 2014 and we are grateful to everyone for their contributions."".
The expansion of the Anfield Road stand is expected to create about 400 new jobs on match days, and the expansion of the stand is likely to be completed before the start of the 2023-2024 season..
Liverpool, second in the league, will visit Brentford next Saturday.