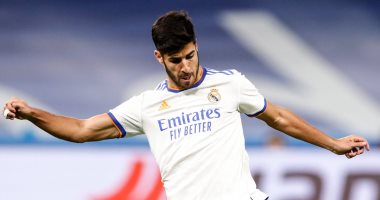 English press reports revealed that Liverpool are interested in contracting Real Madrid's international winger Marco Asensio in the near future, taking advantage of the player's anger at not participating continuously with the royal team.
And despite scoring a hat-trick with Real Madrid this week against Mallorca, it appears that Asensio's exit is on the table, and Liverpool may be ready to pounce on him and sign him.
And according to the English newspaper "Daily Mail", coach Jurgen Klopp is keen to rebuild his team, and the Spanish international is a great signing.
And since he has not been picked regularly this season, it is believed that Asensio will hold talks with Real Madrid coach Carlo Ancelotti soon, and may be able to leave.
Although Real Madrid is not as star-studded as in past years, it still includes many names such as Eden Hazard, Gareth Bale and Vinicius Jr, much to Asensio's frustration.
And the Spanish newspaper "Sport" reported that Asensio even threatened to withdraw from the Bernabeu after feeling provocative by Ancelotti.
Asensio reportedly had the opportunity to leave this summer, as Tottenham were also interested in him, along with Liverpool, and further reports added in August that Arsenal were among those interested, but Liverpool are able to hijack Asensio due to participation in the Champions League.
With two years remaining until the end of his current contract, Real Madrid faces the possibility of selling him and collecting good sums if he asks to leave.
Asensio has played 134 matches in La Liga with Real Madrid since joining in 2016, and has also won the league title twice and the Champions League twice.