The draw for the fourth round of the English League Cup (the Round of 16) was just held after the end of the match between Manchester United and West Ham United, which the latter won 1-0.
The Liverpool team, which includes our Egyptian star Mohamed Salah, was drawn against Preston, while Arsenal, for which Mohamed Elneny plays, will face Leeds United.
English League Cup Draw
The draw was as follows:
Chelsea x Southampton
Arsenal x Leeds United
Stoke City x Brentford
West Ham x Manchester City
Leicester City x Brighton
Burnley x Tottenham
Preston x Liverpool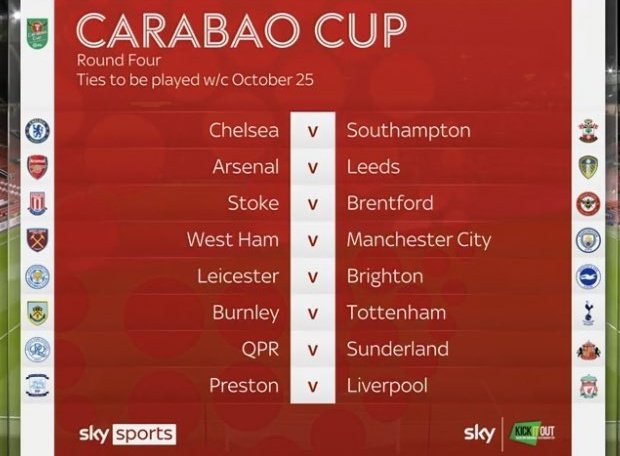 League Cup draw
The Liverpool team qualified for the round of 16 of the English League Cup, after its victory against its host Norwich City, with three goals against a goal, in the match that brought the two teams together, yesterday evening, Tuesday, at the "Caro Road" stadium in the third round of the championship competitions.
While Manchester City won a wide victory at the expense of its rival Yacombe 6-1 in the match that took place between them yesterday at the "Etihad" stadium, while Chelsea defeated Aston Villa 4-3 on penalties.