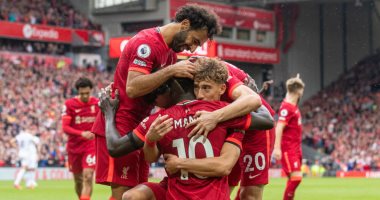 One of the strongest Champions League matches this season 2021-2022 will be held at nine in the evening, Wednesday, between Liverpool and Milan at "Anfield", as part of the first round of Group B competitions.
The professional Liverpool team, within its Egyptian international ranks, Mohamed Salah, is competing in Group B of the Champions League, with Atletico Madrid, Milan and Porto in the strongest Champions League groups this season.
This match bears the title of excitement and suspense because both teams have distinct elements at the technical level, led by Egyptian international Mohamed Salah and Swedish star Zlatan Ibrahimovic, but the latter was absent from the confrontation at the last moments due to his suffering from pain in the Achilles tendon.
The Liverpool team begins its campaign in the European Champions League, after a great brilliance in the English Premier League, where it tied in one match and achieved 3 victories, the latest of which was the victory over Leeds with three clean goals, on a historic night for the Egyptian star Mohamed Salah, who reached 100 goals with the Reds as the fifth fastest player to reach This number is in the Premier League.
Liverpool share the top of the English Premier League table, with Manchester United and Chelsea, with 10 points.
In the Liverpool match against Milan, the Egyptian star, Mohamed Salah, is looking for his 26th goal in the European Champions League over the history of his participation with the Reds, in the continental competition.
On the other hand, the Italian team AC Milan, led by Stefano Pioli, is going through a stable period in the Calcio competition this season.
Milan made a more than wonderful start in the Italian league this season, achieving 3 consecutive victories in the tournament, to share the top of the competition table, with 9 points, with both Roma and Napoli.
Milan fans around the world are waiting for the Rossoneri to return to the glories of the European Champions League again, despite the difficulty of the group in which the Italian giant competes.