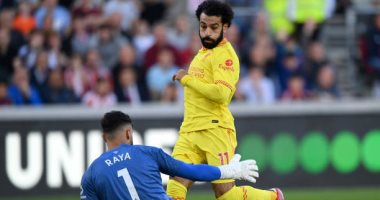 The professional English team, Liverpool, in its ranks, the Egyptian star Mohamed Salah, drew with its host Brentford, with a goal for each, in the first half of the confrontation being held between them at the "Griffin Park" stadium, in the sixth round of the English Premier League competition "Premier League" this season. 2021-2022.
Ethan Pinnock scored the goal for Brentford in the 27th minute of the match.
Diogo Jota scored the equalizer for Liverpool with a superb header in the 31st minute of the match.
Brentford defender Christopher Ayer prevented a goal for Egyptian star Mohamed Salah in the 7th minute of the match, as the pharaoh was alone with the Brentford goalkeeper to hit the ball very skillfully under the goalkeeper, but Ayer intervened at the last minute to save the ball from the goal line.
Liverpool will face Brentford with the following formation:
Goalkeeper: Alisson.
Defense Line: Alexander Arnold – Van Dyck – Matip – Robertson.
Midfield: Fabinho – Jones – Jordan Henderson.
Forwards: Sadio Mane, Diogo Jota, Mohamed Salah.
Liverpool is in second place in the English Premier League table with 13 points, equal to Chelsea, Manchester United and Manchester City clubs who have the same balance of points.
In this match, Liverpool seeks to win and snatch the full points in order to sit on top or go deeper into the golden box, so it will fight fiercely to get the full points from the opponent's fangs..
On the other hand, Brentford occupies the tenth place in the standings table with 8 points, which will work hard to prepare for this match in order to enhance its score of points to advance more on the ranking ladder.
Mohamed Salah scored 4 goals during the English Premier League matches in which he participated this season, and also made two goals.
The British network, "Sky Sports", chose the Egyptian international, Mohamed Salah, as the best player in the English Premier League during the current season, surpassing all the players in the "Premier League" after the passage of 5 rounds of the most famous leagues in the world..
In its report on the players' evaluation, Sky Sports confirmed that Mohamed Salah scored 8,962 points, far ahead of his closest followers in the ranking of the best during the current season.