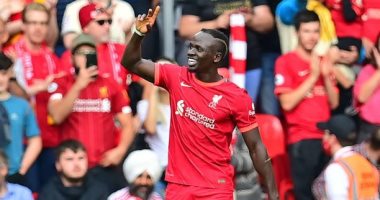 The Senegalese, Sadio Mane, the Liverpool star, confirmed that he was lucky to score against Crystal Palace, noting at the same time that the Reds will compete strongly for the Premier League title, after the precious victory over Crystal Palace with three goals without a response, in the confrontation that took place between them on Saturday evening, Anfield stadium in the fifth round of the English Premier League.
"I feel lucky to always score against Palace, the most important thing is that we get three points, the right time and place to score," Mane said, in statements after the match, after he scored for the ninth consecutive game against Crystal Palace in a record.
And he continued, saying about reaching 100 goals with Liverpool: "I am lucky and happy, thank you to all the fans, the club and the staff, without you I would not have reached this number of goals., Of course I love playing against Crystal Palace every week".
He went on to say about his attempt to score in every game:Register? In my mind I can't stop thinking and believing I'll always score trying".
On the competition for the English Premier League title, he said: "People are right to say that City, Chelsea and United will compete for the title, we will try to do our best to compete and be at this level.".
Liverpool vs Crystal Palace
Senegalese star Sadio Mane scored the first goal for Liverpool in the 44th minute of the match, then Egyptian star Mohamed Salah added the second goal for the Reds in the 78th minute of the match, raising his score to 99 goals in the Liverpool shirt in the English Premier League, and reaching the 130th goal with the team in all The championships, and Naby Keita concluded the Liverpool hat-trick against Crystal Palace in the 89th minute of the match.
Mohamed Salah scored his appearance in the 150th match with the Reds in the English Premier League, where the Egyptian star is a goal away from reaching 100 goals in the English Premier League with Liverpool, an achievement achieved by only 12 players before in the history of the Reds.
With this result, Liverpool raises its score to 13 points to temporarily sit at the top of the English Premier League standings, while Crystal Palace's balance freezes at 5 points in thirteenth place..