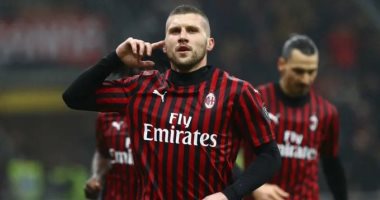 Milan coach Stefano Pioli has settled on a replacement for Zlatan Ibrahimovic to push him against Liverpool, in the match scheduled to take place at nine o'clock this evening, at "Anfield", in the first round of Group B of the Champions League.
The Italian newspaper, Toto Mercato, reported that Milan coach Stefano Pioli will push Croatian star Ante Rebic from the first minute against Liverpool, after Ibrahimovic was absent due to an Achilles tendon injury.
Milan coach Stefano Pioli has excluded Swedish star Zlatan Ibrahimovic from the Liverpool match, due to his suffering from inflammation of the Achilles tendon.
Frenchman Olivier Giroud will also be on the Milan bench against Liverpool tonight, at the Champions League summit at Anfield.
Milan coach Pioli commented on Ibrahimovic's injury, saying, "Zlatan could have been there from the start, but tendinitis can happen. These setbacks are part of football."