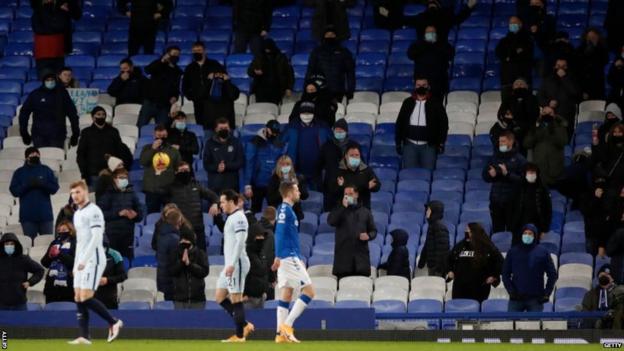 Sporting events in London will not have fans attending from Wednesday after the UK capital was moved into the highest tier of coronavirus restrictions.
Up to 2,000 had been allowed at outdoor arenas following the end of the second national lockdown on 2 December.
However, a rise in infections has resulted in the move into tier three.
West Ham's match against Crystal Palace on Wednesday will be behind closed doors, as will the midweek Premier League matches at Arsenal and Fulham.
The Gunners tweeted: "We are disappointed to confirm that we are no longer able to welcome fans to Emirates Stadium for our Premier League fixture against Southampton."
Liverpool's home fixture against Tottenham will be the only midweek match to feature fans, because the city remains in tier two. The Reds, Everton, Brighton and Southampton are the only other top-flight clubs that can allow up to 2,000 spectators, as it stands.
The World Darts Championship, starting on 15 December, has also been affected. Organisers had planned to have 1,000 fans in attendance – as permitted indoors under tier two guidelines – before the ruling changed.
'Something could be done to make it exempt'
Speaking before the announcement of London's move to tier three, Chelsea boss Frank Lampard said fans should still be allowed into stadiums when tougher coronavirus restrictions are introduced.
"I'm slightly disappointed, even though we have had fans back in tier two, it should have been a level playing field," said the Blues manager.
"We have seen on the pitch the backing they give you and what it does to the game.
"I'm not telling the government what to do, but I also think we can control 2,000 fans coming into the stadium if they are coming from that tier, to keep things moving along.
"It's unfortunate to say the least."
Last week, Chelsea welcomed supporters back for the first time since March, but their next home game against West Ham on Monday 21 December will now have no fans in attendance.
"Let's get it right, we are making it up as we are going along," added Lampard, whose team face a trip to Wolves on Tuesday night, another area in tier three.
"That's not to sound critical – we haven't been in this situation before. Can you control the situation? Clubs have shown that they can.
"I would like to think that something could be done to make it exempt where we can get those 2,000 fans back in, but that goes above my station. I'm just saying what I think."