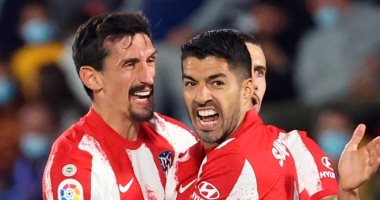 Atletico Madrid striker Luis Suarez confirmed today, Tuesday, after scoring a double victory against Getafe (1-2) in the sixth round of the Spanish League that everyone in the elite teams must get used to "living with criticism."
Suarez confirmed that he does not care about the criticism that affected the team last week, after he failed to find the net in the last two matches.
"I think you have to get used to living with criticism. In the elite you have to live with that. I don't give up. I don't run for criticism," he said.
After that, he talked about the match and said that his team was able to return in a difficult situation: "We have to give more and this result gives us energy to continue improving. There are things that we must improve and solve some things that we did not do well. We have to improve because La Liga is still in its infancy."
Luis Suarez scored the equalizer in the 78th minute, after following Mario Hermoso's cross, and shot it into the net to the left of the goalkeeper..
The Uruguayan star returned to score the winning goal in the first minute of stoppage time for the match, to give his team 3 valuable points, after a goalless draw in the last round with Athletic Bilbao..
Atletico Madrid topped the Spanish league standings with 14 points, one point ahead of Real Madrid, who will face Real Mallorca tomorrow, Wednesday, in the same round, while Getafe remains without any points.