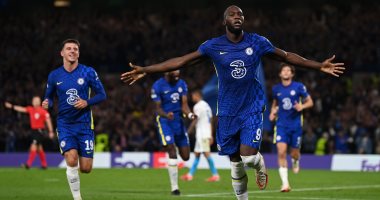 Chelsea scored a difficult victory over its guest, Zenit Saint Petersburg, Russia, with a clean goal, in the meeting that brought the two teams together, on Tuesday evening, at Stamford Bridge, in the first round of Group H of the group stage of the European Champions League.
Belgian star Romelu Lukaku scored Chelsea's only goal in the 69th minute of the match, from a powerful header, which was placed to the right of the Russian team's goalkeeper, to bring the Blues the first 3 points.
In the same group, the Italian club Juventus beat its Swedish host Malmo 3-0, to lead the group by goal difference from Chelsea.
The Slovenian President of the European Football Association, Aleksander Ceferin, honored the Chelsea stars who won the best awards for last season, before the start of the match.
UEFA President Ceferin handed German coach Thomas Tuchel the best coach award, French star N'Golo Kante the best midfielder award, Senegalese Edouard Mendy the best goalkeeper and Italian Jorginho the best player in Europe for last season.
Chelsea won the Champions League last season 2020-2021, for the second time in its history, after beating Manchester City 1-0 in the final..