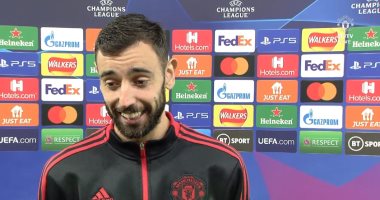 The Portuguese international, Bruno Fernandes, player of the Manchester United team, commented on the difficult victory of his team at the expense of Villarreal, Spain, 2-1, in the match that took place between them on Wednesday evening at Old Trafford, in the second round of Group F of the group stage of the Champions League. For the current season 2021-2022.
After the match, Bruno Fernandez said: "I always thought we could win, even after their goal, I felt we could change the game. After Alex Telles' goal, the atmosphere was great. The fans were great." "David de Gea helped us stay in the game with some big saves," Fernandez added.
Bruno Fernandes stressed: "It is always difficult to play against Spanish teams, they are good with the ball, they played good football and were well organized, sometimes we have to be patient and not rush, the three points were important."
Bruno Fernandes continued: "We finished scoring two goals and we know that every ball in the penalty area will be dangerous, we know they can score at any time."
Manchester United
Bruno Fernandes added: "It was my first night in the Champions League here with the fans and it was great. It's a great feeling, the atmosphere was great, but for me Champions League or not, the atmosphere at Old Trafford is always great."
The goals of the match came through Paco Alcacer in the 53rd minute of the match for Villarreal, while the goals of Manchester United came through Alex Telles and Cristiano Ronaldo in the 60th and 96th minutes of the match.
And Cristiano Ronaldo managed to lead the Red Devils to win the first match in the group stage of the Champions League for the current season 2021/22, after he fell against his Swiss counterpart Young Boys in a deadly time with two goals against a goal, at the "Suis Wankdorf" stadium.
With this result, Manchester United rose to third place in the table of Group F in the Champions League, with 3 points.
Villarreal is bottom of the Group F table with one point, which it collected from a tie with Atalanta in the last match in the first round of the tournament.
The Manchester United lineup was as follows:
Goalkeeper: David de Gea.
Defense Line: Alex Telles – Lindelof – Raphael Varane – Diogo Dalot.
Midfield: Paul Pogba – Bruno Fernandes – Scott McTominay.
Forwards: Jadon Sancho – Cristiano Ronaldo – Mason Greenwood.