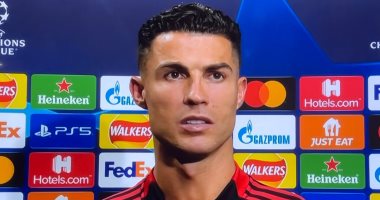 Portuguese legend Cristiano Ronaldo, Manchester United player, spoke about his deadly goal against Villarreal, during the match that took place between them on Wednesday evening, and ended with the victory of the first with a score of 2/1 in the confrontation that was held at "Old Trafford", in the second round of Group F of the group stage. UEFA Champions League in the current season 2021-2022.
Cristiano Ronaldo said in comments after the match: "Yes, I scored the winning goal, but it was a difficult match. Villarreal played well and we suffered a little and we knew that before the match we were a little nervous, but we were lucky that we missed in the last game. It was a good performance from the players and the public and we should We thank them today."
Cristiano Ronaldo added: "I think we won an important victory after Telles' goal. I felt that I could do something that we had to believe in our stadium and our history, and I told the players at the beginning of the game to believe in our chances and it is good that I scored the goal in the last minute."
He concluded by saying about the fans' greeting to him: "That is why I came back here, I miss this club so much, I made history here and I want to make it again."
The goals of the match came through Paco Alcacer in the 53rd minute of the match for Villarreal, while the goals of Manchester United came through Alex Telles and Cristiano Ronaldo in the 60th and 96th minutes of the match.
Man United vs Villarreal
And Cristiano Ronaldo managed to lead the Red Devils to win the first match in the group stage of the Champions League for the current season 2021/22, after he fell against his Swiss counterpart Young Boys in a deadly time with two goals against a goal, at the "Suis Wankdorf" stadium.
With this result, Manchester United rose to third place in the table of Group F in the Champions League, with 3 points.
Villarreal is bottom of the Group F table with one point, which it collected from a tie with Atalanta in the last match in the first round of the tournament.
Man United vs Villarreal
The Manchester United lineup was as follows:
Goalkeeper: David de Gea.
Defense Line: Alex Telles – Lindelof – Raphael Varane – Diogo Dalot.
Midfield: Paul Pogba – Bruno Fernandes – Scott McTominay.
Forwards: Jadon Sancho – Cristiano Ronaldo – Mason Greenwood.