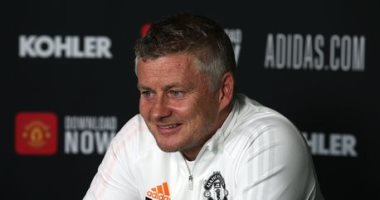 The Norwegian coach of Manchester United, Ole Gunnar Solskjaer, confirmed that some changes have been made to the formation of the team against his guest West Ham United, scheduled for nine to a quarter of the evening tomorrow, Wednesday, at Old Trafford, in the third round of the League Cup. English.
Solskjaer spoke at the match press conference, saying: "We know it's early in the season and some players need playing minutes to get back in shape, so I'm going to make some changes against West Ham."
He added, "Fortunately for us, no player was injured on Sunday, so we have the same group of players to choose from."
He continued, "Lingard will be key in tomorrow's match, Alex Telles has done a good job and he will also be in the team against West Ham."
He continued: "Anthony Ilanga will be playing tomorrow, he was great in pre-season, his attitude, his enthusiasm, his frankness, I would love to see players like that."
Manchester United beat West Ham 2-1, in the meeting that brought the two teams together last Sunday at the "London" stadium, in the fifth round of the English Premier League, which witnessed the brilliance of Spanish goalkeeper David de Gea, after he saved a penalty kick in the last minute. From the match and kicked by Mark Noble, captain of the Hammers.