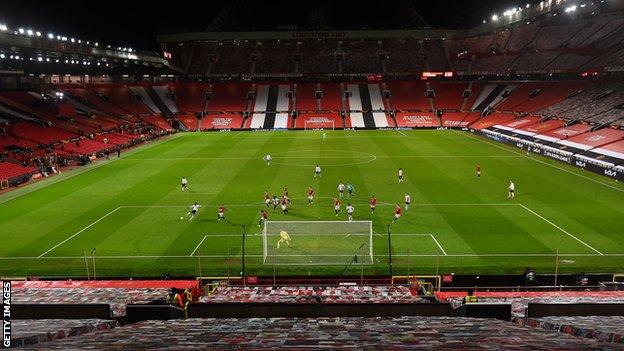 Manchester United have changed the colour of the banners covering the seats at Old Trafford from red to black in an effort to win more home games.
Almost 25 years to the day since former manager Sir Alex Ferguson ordered his players to change their grey shirts at half-time in a match against Southampton because they were struggling to pick each other out, current boss Ole Gunnar Solskjaer said a similar issue may be a reason for his side's problems at home this season.
United have won 13 (54.2%) and lost six (25%) of their 24 home games in all competitions this season. In contrast the figures away from Old Trafford are 17 wins (65.4%) and three defeats (11.5%) from 26 matches.
Solskjaer admits there should be no reason for the discrepancy.
But, in the efforts to find a solution, the Norwegian says the previous seat coverings were not helping.
"We've looked into this," he said. "There shouldn't be a reason, really, but some of the players have mentioned that split-second decision you have to make where you look over your shoulder to see if your team-mate is there or not and the red shirt is on a red background with red seats.
"You'll see a change now, if you see the banners around the club it's not red anymore."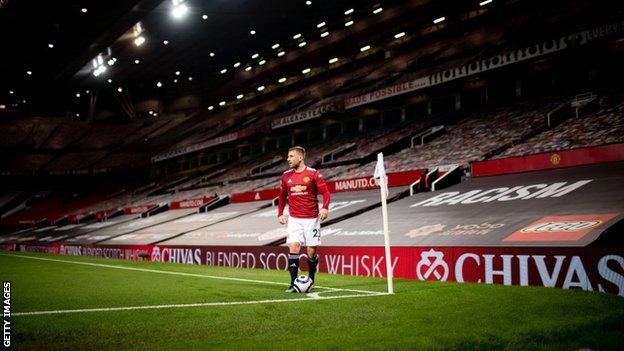 On 2 April, United announced their 'See Red' anti-racism campaign. This involved the backdrop changing from red to black.
Since then, their only game at Old Trafford was against Brighton, which they won 2-1.
"I still think we've played some good football at home but we've tried to change that (backdrop) along with the anti-racism campaign. It was important it wasn't red anymore."