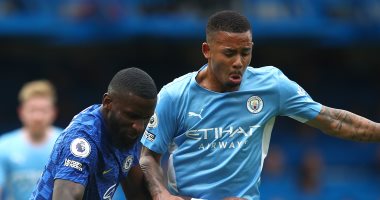 Manchester City snatched an important victory against Chelsea, 1-0, in the match that brought them together at "Stamford Bridge" in the sixth round of the English Premier League.
Gabriel Jesus scored Manchester City's only goal in the 54th minute of the second half, amid persistent attempts by Chelsea, who failed to equalize throughout the match.
Thus, Chelsea's balance freezes at 13 points in third place, and Manchester City's balance increases to 13 points in second place in the English Premier League table..
Chelsea failed to dedicate the knot to Manchester City, especially since the London team managed last season to snatch the Champions League title from Spanish coach Pep Guardiola's team, and also expelled him from the FA Cup semi-finals..
The two teams had previously played 94 matches before Saturday's match in all matches. The Chelsea team managed to win 44 matches, the last of which was the Champions League final. On the other hand, Manchester City won 31 matches. While the two teams tied in 19 matches. On the other hand, the Manchester team could not win in the last three meetings between the two teams.
City scored 114 goals, while the Blues scored 128 goals against City. On the other hand, Argentine Sergo Aguero is the top scorer in the meetings between the two teams with 13 goals.