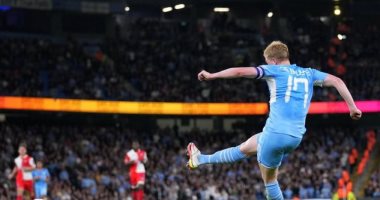 Manchester City finished the first half of their match against Wycombe with a 3-1 lead in the match currently being held between them at Al Ittihad Stadium in the third round of the English Premier League Cup.
The goals of the first half came through Brandon Halnon in the 22nd minute for Wycombe, before City returned with two consecutive goals through Kevin De Bruyne, Riyad Mahrez and Phil Foden in the 29th, 43rd and 45th minutes, respectively.
Manchester City face Wycombe in one of the meetings in which coach Pep Guardiola will rely on many young elements in order to give the main players a chance to breathe before returning to the league matches again.
The Manchester City lineup was as follows:
Stephen, Eagan Riley, Mbeti, Burns, Wilson Esperand, Sterling, Lafia, De Bruyne, Foden, Mahrez, Torres.
Manchester City fell into the trap of a goalless draw against its guest, Southampton, in the meeting that took place last Saturday, at the "Etihad" stadium, in the fifth round of the English Premier League "Premier League".
Manchester City's loss of two points in the English Premier League in the last match is a pressure factor on coach Pep Guardiola, who is preparing for fiery confrontations after the Wycombe match, as he will meet with Chelsea, the leaders of the English Premier League and Paris Saint-Germain in the Champions League, and then Liverpool, within 9 days, which means Injuries will be a major concern for the Spanish coach.