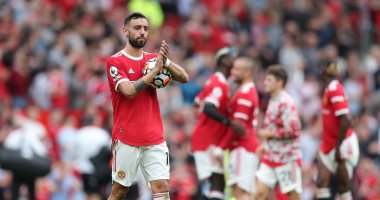 Press reports revealed, today, Wednesday, that the Portuguese star, Bruno Fernandes, is close to signing a new contract with the Red Devils, in the coming days, according to which he will continue with the English club until the summer of 2026.
The British newspaper, "Sun", reported that Manchester United is close to signing a new contract with Bruno Fernandes, with a salary of up to 250 thousand pounds per week, after the remarkable Portuguese player brilliance, since joining the team in January 2020, coming from Sporting Lisbon in a deal It amounted to 60 million pounds.
The newspaper pointed out that negotiations between United and Bruno had begun months ago in order to sign a new contract, where the Portuguese player's salary in the new contract would increase by 100,000 pounds over his current salary of 150,000.
The newspaper pointed out that Bruno Fernandes' contract, 27, with Manchester United, expires in the summer of 2025, with the advantage of renewing for another season.
Bruno Fernandes played with Manchester United 85 games in various competitions, during which he scored 44 goals and provided 26 assists.
The Portuguese star is the top scorer in the English Premier League after 4 rounds with 4 goals, with West Ham United striker Michel Antonio.
Bruno Fernandes was crowned the best goal in Manchester United last August, surpassing the stars of the English team.
And the official website of Manchester United club announced that Fernandes won the Goal of the Month award with his third goal against Leeds United in the opening round of the Premier League in the new season 2021-2022.
Bruno Fernandes scored a wonderful goal against Leeds United, after he fired a missile from inside the penalty area, which landed in the net of the Leeds goalkeeper to complete the hat-trick.