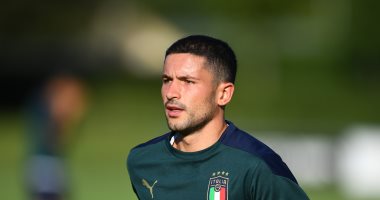 Italy coach Roberto Mancini is planning to exclude Inter Milan midfielder Stefano Sensi from the Azzurri squad during the upcoming international break.
Stefano Sensi was left out of Italy's list for the match against Lithuania yesterday, Wednesday, for suffering from a calf problem, which led to the player's return to the Nerazzurri, to resume local activity.
Although the player was excluded from suffering from a calf problem, he wrote on his personal account on the social networking site "Instagram", saying, "I am fine, guys, and I have nothing, and we will meet in the stadium on Sunday."
This has angered Italy coach Roberto Mancini, as he expressed his dissatisfaction with Sensi's behavior, and is seriously considering excluding him from the Azzurri list in the upcoming international break.
Italy coach Roberto Mancini evaded a journalist's questions about this matter, after the Lithuania match, which ended with the Azzurri winning 5-0, explaining that he had not read what Sensi wrote.
A large number of Italian players left the Azzurri camp due to injury concerns, including Federico Chiesa, Nicolo Zaniolo, Lorenzo Pellegrini, Marco Verratti, Emerson Palmieri, Ciro Immobile and Lorenzo Insigne.