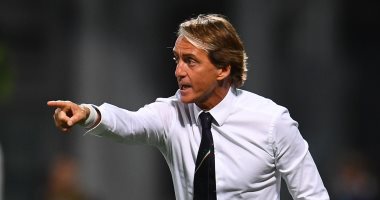 Roberto Mancini, coach of the Italian national team, praised the duo, Moise Kean and Raspadori, in their 5-0 victory over Lithuania, in the match that brought the two teams together, on Wednesday evening, at the "Mappi" stadium, in the sixth round of the third group of European qualifiers for the World Cup. in Qatar 2022.
Mancini said in statements after the end of the match: "Moise Kean and Raspadori will have more chances after brilliance against Lithuania, despite the loss of many players during the past two days, but the reaction of the players on the field was good, although the opponent is not a strong opponent." .
"We have already brought Raspadori to the Euro, we saw that he has quality but he is young and needs to gain experience, of course it's all on their minds and feet, if they do what they need to do, work hard, stay organized on the field, it depends on them, but They can get their chance, but you can't always score 5 or 6 goals, so they did a good job."
Italy national team
Italy finished the first half with a 4-0 lead, scored by Moise Kean, two goals, Edgaras Otkos, and Giacomo Raspadori in the 11th, 14th, 24th and 29th minutes.
And "Opta", which specializes in monitoring statistics, stated that the Italian team scored 4 goals in 30 minutes against the Lithuanian team for the first time in its history.
In the second half, Giovanni Di Lorenzo added the fifth goal of the Azzurri in the 54th minute of the match.
The Italian team strengthened its lead in Group C with 14 points, while Lithuania's tally remained without any points.