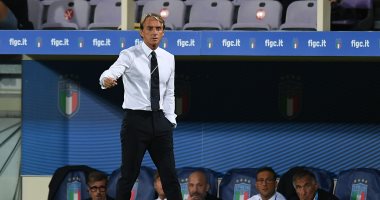 Roberto Mancini, the coach of the Italian national team, champion of the last European Nations Cup "Euro 2020", expressed his extreme distress at the disappointing draw in which the Azzurri fell against Bulgaria 1-1, in the meeting that brought them together Thursday evening at the "Artemio Franchi" stadium in Florence, as part of the competitions Fourth round of Group C of the European Qualifiers for the 2022 World Cup.
"It was one of those matches where we could have played for another 30 minutes without scoring a goal," Mancini said in comments immediately after the match. And"We should have been more efficient on goal, we created many chances," the Italy coach added.
"We should have been more clinical, we did our best to win this match, we have an important game on Sunday and we have to win," Mancini explained.
Italy top Group C with 10 points in four matches, and they face second-placed Switzerland in Basel on Sunday.
In a related context, the "Opta" network, which specializes in monitoring statistics, stated that the Italian national team reached its 35th match in a row without defeat, equaling the record for the teams of Brazil and Spain.
Mancini also became the first coach of the Italian national team to succeed in unbeaten in 18 consecutive matches at home, surpassing the previous record, which was registered in the name of Marcello Lippi, with 17 matches.
The two goals of the match came in the first half, as Juventus star Federico Chiesa scored Italy's goal against Bulgaria in the 16th minute of the match, from a great individual effort, and concluded it with a creeping shot to the left of the Bulgarian goalkeeper. The Bulgarian team managed to equalize in the 39th minute of the match through player Atanas Lev.
The Italian team maintained its lead in Group C with 10 points, while Bulgaria raised its score to two points in fourth place. In the same group, Northern Ireland defeated its host Lithuania 4-1.
The Azzurri national team won the European Nations Cup "Euro 2020", on July 11, at the expense of its English counterpart, on penalties, after the end of the original and extra time in a 1-1 draw.